Clean Waterways Bring Back Wildlife
South City had an awesome visitor earlier in July when a 12 foot bottle-nosed dolphin was sighted exploring Colma Creek. This is a great reward for the hard work done by the Community Preservation Task Force which has made cleaning up the Colma Creek a priority in recent years.
Tom Carney, South San Francisco's Safety Inspector and Code Enforcement Officer, heads up this group which is comprised of city staff, business leaders and community volunteers, including students earning community service hours. "We have been focusing much of our efforts on Colma Creek" Carney informed me. "Our last clean-up effort yielded a 14 yard debris box along with several other large items.  We are working to get the community involved in our quarterly events out along the creeks and the bay trails. At times it seems we have hardly put a dent in the litter we continue to find out there, and it can be discouraging. But when we see dolphins and other animal and plant life recover, we know we have made a difference."
The Community Preservation Task Force (CPTF) was formed in 2002 under the South San Francisco Fire Department as part of a joint effort to bring attention, and help, to areas that were becoming blighted.  SSFFD is the lead department due to its responsibility for code enforcement. The mission statement is simple;
"To protect the quality of life, property values and the environment for residents and businesses of South San Francisco. This will be accomplished by insuring compliance with policies, codes, rules, regulations, and permits in a proper, timely fashion within the limits of the law."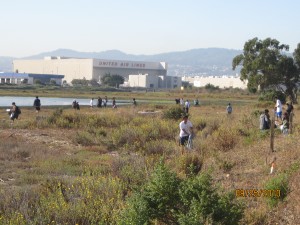 The group is credited with hosting over 20 events including E-Waste Collections, neighborhood clean-ups, and tree planting in the 10 years of its existence.  In addition, CPTF offers outreach with informational booths and educational material at many civic events, as well as offering community service hours to high school students.
Some of the neighborhoods that CPTF has helped included Armour/Olive, A/B/C Streets, Randolph Avenue, Willow Gardens, Village Way, Juniper/Cedar/9th Lane, and Francisco Terrace, and tree planting in Winston Manor.  The group organized neighbors and worked with them to clear out unneeded items and trash on their properties that had been accumulating and divide into recyclable /reuse or trash. A neighborhood BBQ would finish up the day along with raffles and educational activities for the younger kids, such as the SSFFD Smoke Mobile.
South San Francisco businessman John Helfrich has engaged many students from El Camino High School's Key Club to join in on these efforts and knows that education must start with our younger generation. Last year San Mateo County participated in the efforts with a program working to identify where some of this trash originates. Volunteers picked up trash in front of both South City High and El Camino High, and were surprised at the amount of litter that was tossed by those eating fast foods from local places.
"Many people do not realize this trash ends up in the creeks and washes out into the bay." Carney reported. "We now have multiple agencies working with us to help reduce this problem in our waterways, including the US Fish and Game."
One of the biggest culprits has been Styrofoam in the form of take-out food containers as well as packing beads. The city has set a ban on all Styrofoam take-out containers and appreciates businesses that go above and beyond by not even selling or using these items in their stores or businesses. A county wide ban on plastic bags may also help reduce this pollution. Another huge find are cigarette butts which account for one fourth of trash nationally. Contrary to belief, cigarette filters are not biodegradable; the acetate (plastic) filters can take many years to decompose and leach poisons into the water shared by our wildlife.
Because much of the trash also comes from the gutters, or catch basins in our streets, it really is up to residents and business owners to keep areas clean and not allow items to be washed down the streets. South San Francisco employs a street sweeper which also helps reduce toxic chemicals from entering our streams yet it's the observant and proactive person that can make a difference.
The Community Preservation Task Force invites you to join them during their next Colma Creek Clean-up Event slated for Saturday July 28, 2012, from 9:00 am to 1:00 pm. The group will be meeting at Haskins Way and East Jamie Court (Cul-de-sac at Haskins Way) and also will be planting trees. Tools and refreshments will be provided.  For more information on this event please contact Tom Carney 650-867-5130
This is a great opportunity to do something bigger than yourself, learn about the plant and wildlife in our creeks, and maybe, just maybe see a dolphin explore cleaner waters because of your efforts.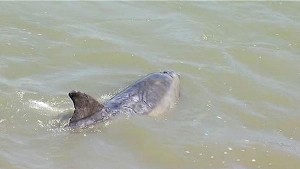 If you would like to participate in the planning of future events CPTF meets the second Wednesday of every month from 11:30 am to 1:00 pm in the Betty Weber Room (Municipal Services Building) at 33 Arroyo Drive, South San Francisco and the public is welcomed- and encouraged,  to join in.