Former South San Francisco resident John Kevranian was honored this past week  by the Board of Supervisors of San Mateo County and PeninsulaWorks  for his outstanding work over this past decade as a mentor to youth in our community. Kevranian is the owner of the successful Burlingame business 'Nuts For Candy' and believes strongly in the small business mentality of helping others follow the entrepreneurial path.  He has opened his store to groups of PeninsulaWorks interns and has spent countless hours sharing his knowledge of  business world survival for those seeking self employment.
Kevranian says, "As a volunteer mentor, I have had the great privilege of working with the finest group of people. The diverse background of the interns have brought me enormous amount of respect for these interns. I believe PeninsulaWorks Intern Program is the finest in the country and those who are in the program should be extremely proud." Kevranian continues, "Working with Hal Kataoka, the Employment Coordinator/Intern Director at Daly City PeninsulaWorks and Human Services Agency of San Mateo County, has been rewarding. Kataoka has been bringing interns to Nuts for Candy for the past several years. I've really enjoyed working with these interns and look forward to seeing them reach their successes as well."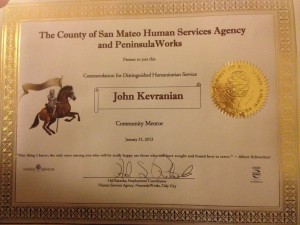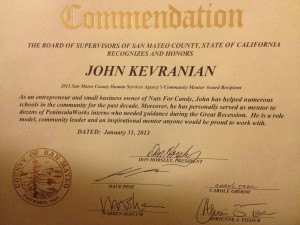 During the 19th Intern Hall of Fame Year Awards, Kevranian was presented the Community Mentor Award on January 31, 2013.
The award stated:
"As an entrepreneur and small business owner of Nuts For Candy, John has helped numberous schools in the community for the past decade. Moreover, he has personally served as mentor to dozens of PeninsulaWorks interns who needed guidance during the Great Recession. He is a role model, community leader and an inspirational mentor anyone would be proud to work with"
Many may remember Kevranian from his recent work with the Armenian community  and the resulting proclamation by the Board of Supervisors proclaiming April 24th 2012, as Armenian Genocide Commemoration Day.
More information on the PeninsulaWorks program can be found by contacting their Daly City office at 650/301.8440 or  online at their website: www.peninsulaworks.org/