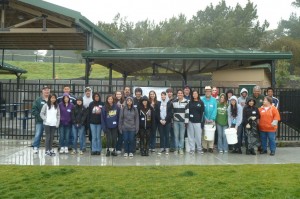 Kiwanis Club of South San Francisco Recognizes Special Day of Service
April 06, 2013 recognized as Kiwanis One Day – a global action day benefiting children and communities
South San Francisco, CA – April 07, 2013 – The Kiwanis Club of South San Francisco partnered with the City of South San Francisco to bring the spirit of service alive in South San Francisco by hosting a refurbishment project at Westborough Park in South San Francisco. On Saturday, April 6th from 8:30 am to 1:30 pm, 33 members of the Kiwanis Club of SSF, El Camino High School Key Club, South San Francisco High School Key Club, San Francisco State University Circle K and community volunteers, under the direction of Art Rosales, Interim Parks Supervisor, from the City of South San Francisco Parks & Recreation Department, worked in groups to do landscaping, weeding, mulching, debris clean-up, picnic area and playground equipment cleaning.
This service project was held as part of Kiwanis One Day, a global volunteer action day uniting the entire Kiwanis family, including Kiwanis, Circle K, Key Club, Builder's Club, Aktion Club, K-Kids and Kiwanis Junior. On this day, more than 30 volunteers in South San Francisco joined nearly 600,000 volunteers around the world in devoting a few hours to hands-on volunteer service. Kiwanis expects that Kiwanis One Day will contribute nearly one million service hours around the world in just one day.
"We are proud to join our fellow Kiwanis family members around the globe to participate in Kiwanis One Day," said Club Treasurer, Paul Formosa. "The energy, commitment and camaraderie surrounding this single day make the experience of hands-on service even more gratifying for our members as they make an immediate, measurable impact on the South San Francisco community."
Kiwanis One Day ("One Way, One Day, One K") was designated by Kiwanis International in order to unite all youth and adult members from different parts of the Kiwanis family together in service. For more information on the Kiwanis Club of SSF's service activities, please contact Lisa DeMattei, Club Secretary, at 650.346.3747 or lisa.ssfkiwanis@gmail.com.
About Kiwanis
Founded in 1915, Kiwanis is a global organization of volunteers dedicated to changing the world one child and one community at a time.  Kiwanis International and its service leadership programs for young people, including Circle K, Key Club, Key Leader, Builders Club, K-Kids, Kiwanis Junior and Aktion Club dedicate more than 19 million volunteer hours and invest US$100 million to strengthen communities and serve children annually.
The Kiwanis International family comprises 600,000 adult and youth members and 15,000 clubs in 90 countries and geographic areas. Kiwanis members make their mark by responding to the needs of their communities and pooling their resources to address worldwide issues. Globally, Kiwanis International has focused humanitarian efforts on eliminating iodine deficiency disorders (IDD), through the Worldwide Service Project, a US$75 million campaign in partnership with UNICEF, which began in 1994. Currently Kiwanis and UNICEF are working together on The Eliminate Project to eliminate maternal and neonatal tetanus around the world with a commitment to raise US$110 million. For more information about Kiwanis International, please visit www.kiwanis.org
The Kiwanis Club of South San Francisco is a local volunteer service club, founded in 1953, based on fun, friendship and charity. We are unified and dedicated in our belief that children, their families and communities benefit from the efforts of a proficient group of caring and involved volunteers. We proudly sponsor the El Camino High School and South San Francisco High School Key Clubs and San Francisco State University Circle K. Kiwanis is a global organization of volunteers dedicated to changing the world one child and one community at a time. www.SSFKiwanis.org