South San Francisco, CA    February 21, 2014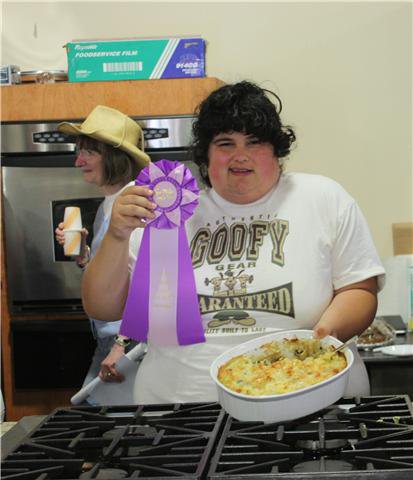 We have to give a shout out to our girl
Chef Ava Marie
and her passion that inspires us all. She has not let AUTISM define what she can or cannot do- she reminds us all to get out and live our passion! Chef Ava Marie, the daughter of Carol and Marty Romero, is very involved in our community.  She is a regular at our local Chili Cook Offs. Last year Chef Ava Marie entered a Turkey Mole at the famous
MOLLOY'S TAVERN Annual Chili Cook Off.
This year she said she will replace it with a Beef Mole because she knows people want beef. The Chef has also entered
South City's Friends of Park and Recreation Chili Cook Off
using a sausage pepper and onion chili.
Chef Ava Marie is well known at the San Mateo County Fair where she is a regular contestant. This year she is excited to include her sister's daughter, Ariel, with her. They will be doing an Aunt and Niece Cooking Together contest.  which brings families together.  She was also scouted for the Guy Fieri's Grocery Games and while she was not chosen for this latest segment, she looks forward to one day being as well known as Rachael Ray.  Chef Ava Marie continues to hone her cooking skills by taking regular classes at Colma Community Center and through South San Francisco Park and Recreation.
Yesterday we read
Chef Ava Marie's FB post
and knew we had to help get the word out so more folks could enjoy her recipes and her blogging. She brings so much heart to what she does and we asked our followers to take a moment to read her last entry which we have shared below. Within 12 hours Chef Ava Marie's facebook page grew from 183 to 230 followers.
So BE INSPIRED and please take a minute to read her last post. If you are on FB please LIKE her page and stay on top of her blogs and recipes.  And check out her website and bookmark it. You will be amazed at the great recipe  and information she puts out. Her recipes include photos and are easy to follow and delicious to eat!
ESC would like to take this opportunity to once again say "Your heart is bigger than South City – Rock on Chef Ava Marie !!"
I just took a brief look of my fans and it look like I only have 183 likes, it was 184 and chef ava marie is very disappointed who ever it is. This page is about learning new recipes from myself as the chef ava marie, the star of all, and I also do a blog, I do restaurant reviews, cooking class reviews and more.It is also a place to share your favorite recipes with Chef Ava Marie, its open to all Just like Everything South City its not a closed group like mine and please I know I am careful on facebook better than ever before thanks to my sister molly for the heads up and a few neighbor complaints I just want my fans to understand, I share my recipes, this is my life this is my culinary dreams, and it all started in 2010 when I needed something to do in my cooking.
So here's my story; I started cooking at age 13 and been cooking for 11 years and I've dreamed of going to cooking school in high school or becoming the next Rachael ray or guy fieri at the time. But my special education teacher's think I wasn't ready at the time, so I went to the vocational school at Canada college, it was good, but not like el camino high I loved ECHS Way better, the people were nice, I learned how to get around town because of some of the staff at my vocational school at Canada college and thankful for that.
But I know culinary school didn't happen and Rachael ray said you don't have to go to culinary school to be a chef and I listened, so I decided from this point on in 2010 Chef Ava marie was born and it has 183 likes today. But please tell your friends, to share the love of chef ava marie and her cooking and I am the best local san mateo county chef ever without a GED trust me and with Autism and it is Very true!