South San Francisco, CA   May 27, 2014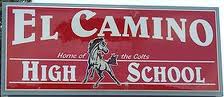 Everything South City has been following the Facebook page created by El Camino High School PTSA President Pat Murray. As she writes this entry as we share below, ESC encourages our community to recognize Pat and what she has given to our students and to our community. Her innovative outreach via social media to keep parents, teachers, students and the community informed of El Camino High School happenings is much appreciated. And to her decades of dedication to our student body is something we must formally acknowledge.
Her elequent words speak volumes and we need to take these words to heart. And we echo the sentiments of Beth Jewell Orofino as she writes "You are one-of-a-kind, Patti—I hope the SSFUSD hasn't seen the last of you yet."
My youngest child will be graduating from El Camino in a couple of days. With this graduation, I will end my almost 2 decades of work as a "Mommy" helper and PTA/PTSA leader. Over the last 18 years, I have been PTA/PTSA president more times than I can count and when I wasn't president, I was working in some other leadership role (oftentimes, at more than one school!) I have also worked at the PTA Council level and on numerous PTA, school and district committees.
What I have learned over the years is that it does indeed "take a village". Parents meeting other parents and watching out for each other's kids… Parents acting as sounding boards for other parents or showing support where they can… Parents helping in the classroom and helping not only their own children (who may not need the help) but helping everyone's children… Parents working with teachers, administrators and staff, learning about what makes a good school and working towards that goal… Parents bringing their ideas to the school or district and working to bring those ideas to life… Parents working with the district – School Board, Superintendent and Staff – when they feel the need… It's about working TOGETHER to get the best and most enriched education we can for our children! In doing this, we enrich not only our children's lives, but our own.
I have found my involvement mostly in PTA and am thankful that I've had the opportunity to meet so many wonderful, giving people. Through our involvement… big and small… we build a community!
I have so much gratitude and appreciation for those of you I've worked with over the years… You have inspired me to do my best for the kids and to work hard to build our community! Thanks for being the kind of people that I wanted my children to see and emulate. Thanks for teaching me and encouraging me to "think outside the box" so that we could make good things happen! Thanks for being my friends and helping me negotiate the hardest parts of parenting. Thanks and keep up the good work… it's important work!!!
(((hugs)))
Pat (Murray) PTSA President