South San Francisco, CA   August 20, 2014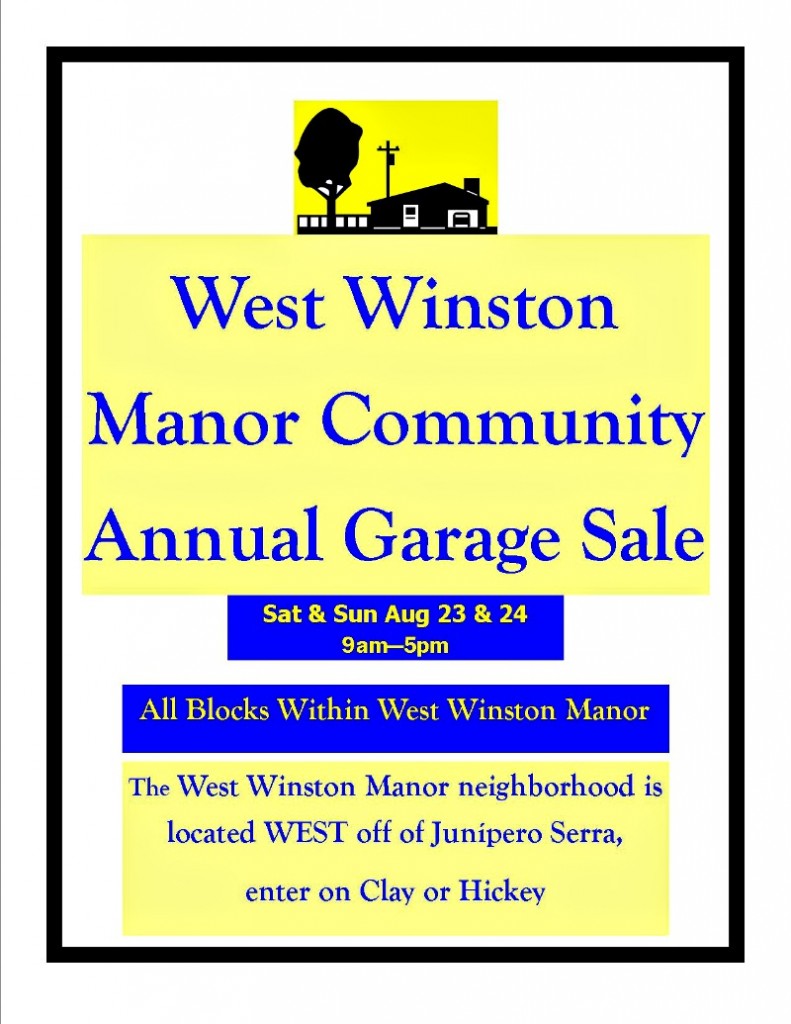 The annual West Winston Manor Garage Sales will be taking place August 23 and 24th and promises to be yet another highly successful event – both for sellers and buyers. "We usually have about 50 homes that participate in this event" Cindy Alger tells us.
Another great draw will be Chef Ava Marie's Baked Goods for sale. Ava is our award winning Chef who is active in our community.  Below is a list of goodies Ava will have on hand.
This event will take place between 9am and 5pm. West Winston Manor is on the West Side of Junípero Serra and can be  enter on Clay or Longford from Hickey.
In addition the SSF City Wide garage sale will take place as usual on the 2nd Saturday in September (Sept 13th) with no registration necessary. These sales will not be mapped however ESC will share locations that others share with us.
From AVA:
hello bargain hunters, we are having a Garage And Bake Sale in Partnership of our Annual west Winston manor community Garage Sale event. takes place on August 23rd (Saturday) and August 24th (sunday) will both be from 9-4pm so heres a list that we will be selling
in the garage sale category
Cookbooks
Calenders
Christmas stuff
Party supplies
Halloween supplies
kids stuff
Duffle Bags for college kids
ice pop molds
jelly belly snow cone ice shaver
and a bunch bunch more
in the bake sale category
Saturday August 23rd I will be selling the following food items
*Red Velvet Cake pops $1.00 each 2 for $3.00 3 for $5.00
*Pesto puff pastry pinwheels $0.75 cents Each
*white Chocolate dipped toffee spoons $0.75 cents each
*pesto puff pastry pinwheel Recipe bookmarks $1.00 each
sunday August 24th I will also be selling the following baked items
*key lime butter cake pops $1.00 each 2 for $3.00 3 For $5.00
*praline Sugar cookies 2 for $1.00 each
so the location of the place is
141 Dundee drive
south san Francisco CA 94080