South San Francisco, CA            September 8, 2014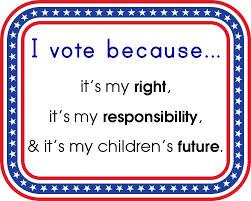 This November our ballot will include eight well qualified candidates for the three open seats on our School Board. As a community we all have a vested interest in our schools and it is important that we educate ourselves on the candidates. And vote. (UPDATE: Monica Boyd has suspended her campaign and will not be seeking a position on the SSFUSD Board although her name will appear on the ballot. There are now 7 candidates) 
Voting is our right, and it is also our responsibility.  We have soldiers deployed in other countries to help others obtain this right to vote, we must not waste ours. The blood of our forefathers, and those who continue to serve, deserve our respect and our community deserves our vote. We thank each and everyone of our candidates for putting themselves out there and doing the hard work involved in campaigning. And their willingness to continue this hard work for this next four year term on behalf of our children and our community. Please know your vote shows your appreciation to our candidates as well.
If you are not currently registered to vote in our city, please CLICK HERE to gain more information and to register to vote. If you have recently moved into our city, changed your name, or your party affiliation since the last election you must re-register. Your Voter Registration Form must be applied on-line by midnight no later than 15 days before the election. The upcoming election takes place November 4, 2014.
We have asked our candidates 7 questions with one being 'Why should the community at large vote in this election for SSFUSD Board members?'. It may seem a non-issue to you, yet it is very important in our community and for the future of our youth, and our city.
The Mission of our School Board is clear:
'The mission of the South San Francisco Unified School District, through collaboration with home and community, is to graduate responsible, productive, and environmentally aware citizens who have the academic and social skills necessary to contribute to a changing global society, through active participation in a quality instructional program defined by a challenging and creative curriculum which ensures opportunities for a diverse population to experience individual expression and collaborative problem solving in a safe and stimulating environment.'
In addition statements from each candidate have been submitted to the Elections Office as they will appear in our sample ballots. In time they can be viewed CLICK HERE. Below is the list of candidates, the ones in BLUE with ** have participated in our Q&A. Click on the name to read the exchange between ESC and the candidate. We did not receive replies from Boyd, Olinger, or Weise.
**Rosa Acosta Occupation: Management Analyst
**John Baker Occupation: State Grant Analyst
Monica Peregrina Boyd: Occupation: Financial Consultant (UPDATE: Has suspended campaign yet name will appear on ballot)

**Patrick A. Lucy Occupation: Appointed Incumbent (12/2013)
**Patricia "Pat" Murray Occupation: Community Volunteer
**Rick Ochsenhirt Occupation: South San Francisco Planning Commissioner
Sue A. Olinger Occupation: Educator
Philip Weise Occupation: Incumbent (Serving since 1997)
OTHER BALLOT ISSUES
In addition to our local School Board Trustees we have other important issues on this November ballot. Please study over the items and remember you DO NOT NEED TO VOTE ON EVERY ISSUE. Choose a few items that are important to you personally, study up on them, and VOTE. To view this upcoming ballot CLICK HERE
California Supreme Court
(Yes/No)
Mariano-Florentino Cuéllar
Goodwin Liu
Kathryn Mickle Werdegar
Justice, California State Court of Appeal; District 1, Division 1
(Yes/No)
Kathleen M. Banke
Jim Humes
Justice, California State Court of Appeal; District 1, Division 2
(Yes/No)
J. Anthony Kline
Therese M. Stewart
Justice, California State Court of Appeal; District 1, Division 3
(Yes/No)
Martin J. Jenkins
Stuart R. Pollak
Justice, California State Court of Appeal; District 1, Division 4
(Yes/No)
Justice, California State Court of Appeal; District 1, Division 5
(Yes/No)
Terence L. Bruiniers
Mark B. Simons
Governor
Lieutenant Governor
Secretary of State
Controller
Treasurer
Attorney General
Insurance Commissioner
Ted Gaines, Republican
Dave Jones, Democratic
State Superintendent of Public Instruction
State Board of Equalization; District 2
Fiona Ma, Democratic
James E. Theis, Republican
United States Representative; District 14
Member of the State Assembly; District 22
Board Member; South San Francisco Unified School District
(3 Elected)
Patrick A. Lucy
Sue A. Olinger
Rosa Acosta
Patricia "Pat" Murray
Rick Ochsenhirt
Monica Peregrina Boyd
John Baker
Philip Weise
Commissioner; San Mateo County Harbor District; 2 Year Term
Robert S. Grant
Tom Mattusch
Will Holsinger
Commissioner; San Mateo County Harbor District; 4 Year Term
(2 Elected)
Kimberley Collins
Shawn Mooney
Robert Bernardo
Brian Rogers
James "Jim" Tucker
Nicole David
Should the state sell $7.1 billion in additional general obligation bonds–as well as redirect $425 million in unsold general obligation bonds that were previously approved by voters for resource-related uses–to fund various water-related programs? 
Should the State Constitution be amended to change how the state pays down debt and saves money in reserves? 
Should changes in some health insurance rates require the Insurance Commissioner's approval before going into effect? 
Should California require random drug testing of doctors, require doctors to check a statewide database before prescribing certain drugs, and raise the cap on noneconomic damages in medical negligence lawsuits? 
Should the penalties for certain offenders convicted of nonserious, nonviolent crimes be reduced from felonies to misdemeanors? 
Should the tribal gaming compacts negotiated by Governor Brown with the North Fork and Wiyot Tribes and ratified by legislative statute be allowed to go into effect? 
The order of the contests and candidates on this ballot representation is NOT necessarily the same as your county's official ballot.