South San Francisco, CA     November 13, 2014      Submitted by SSF Parks & Recreation 

South San Francisco Hosts Thanksgiving 5K Race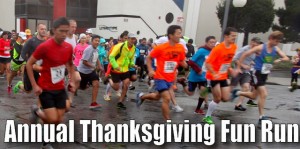 South San Francisco will host its 41st annual Thanksgiving 5K race on November 15, beginning at 9:00 A.M. at 1 DNA Way. The race, which includes scenic routes at Oyster Point Marina Park and the San Francisco Bay Trail, will provide a healthy challenge for athletes competing for top accolades. Runners, walkers, families and children of all ages are welcomed to participate in the fun run aimed at promoting fitness, exercise and good health.
Beginning at DNA Way, the 5K fun run will move along Forbes Boulevard, Gull Drive and Oyster Point Boulevard before reaching the halfway point marked by the San Francisco Bay Trail. The race will conclude at the start of the race at 1 DNA Way. (Race will begin and end at Genentech, Inc) Plaques and medals will be awarded at the end of the race, celebrating top athletes for finishing in first place, second place, and third place.
Pre-registration for the event is $20.00 per person before November 7. After November 7, registration is $30.00 per adult. South San Francisco Parks and Recreation Department offers discounted registration for those under the age of 18. Youth between ages 13 and 17 may participate in the race for $5.00, and children under the age of 13 may participate in the race for free.
All registered participants will receive a specially designed T-shirt memorabilia, along with a chance to win special prizes. Free refreshments will also be served at the event.
Registration on the day of the event closes at 8:45 A.M.
The Thanksgiving 5K race is sponsored by Genentech, Kaiser Permanente, A Runner's Mind, 02 Body Fit, Trader Joe's, The Daily Journal, Clif Bar.
For more information, please contact Elaine Porter at (650) 829-3827 or check the City Website CLICK HERE