South San Francisco, CA   February 26, 2015      Submitted by SSFPD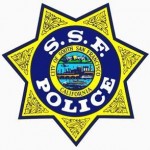 On 02/26/2015, at approximately 2:28 P.M., a South San Francisco resident was walking northbound on the 800 of Hawthorne Place while pushing a stroller containing her one year-old son. A male suspect approached the victim from behind and grabbed ahold of the stroller. When the victim turned to confront the suspect, she knocked him to the ground and started running northbound on Hawthorne Place. The suspect turned and fled on foot southbound on Hawthorne Place. The suspect is described as follows:
A dark skinned male
Approximately 50 years old
Approximately 6 feet tall
Shaved head
Average build
Wearing a grey sweatshirt and dark colored pants
Anyone with information regarding this incident is asked to contact the South San Francisco Police Department at (650) 877-8900. Persons who would like to remain anonymous can call (650) 952-2244 or provide information via email CLICK HERE. The investigation is continuing.