South San Francisco, CA     August 18, 2015         Submitted by Irene Taylor
Keeping Family Traditions Alive Creates Stronger Families
25 years ago I went to a wake for a relative's funeral. At that time I was one of the younger family members. So one of the elders looked my way and said "we need to get together for something more pleasant than a funeral". So I started coordinating family reunions and have been doing this for the past 24 years.
This past Saturday, August 15th, 2015, we had our 25th "Silver" Family Reunion at Coyote Point Recreation Area in San Mateo with 150 family members and friends attending. Each table was covered with a silver tablecloth.  On each table were centerpieces made of mason jars, decorated with silver ribbons, branches, and pictures of our great grandparents and their 4 daughters clipped to the branches with tiny colored clothespins.  It is from these 4 daughters that we all descend.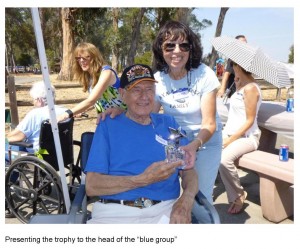 Years ago the family decided to wear specific color t-shirts, depending on the daughter one descended from. So blue shirts, red shirts, orange shirts and green shirts were seen throughout the picnic. A trophy was awarded to the largest color group attending. This year the "blue group" won the trophy.
I created a large poster and drew a tree on it, with pictures of our great grandparents and their 4 daughters on it.  Each family member attending signed the matting on the poster with their "color coded" pens.
Smaller copies of the poster were purchased by family members if they wished to do so.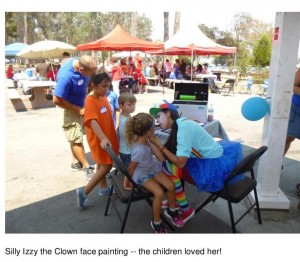 Food was delivered by La Tapatia in South San Francisco and six family members from our families helped serve everyone.  They each wore black aprons with 25th Ayala Family Reunion imprinted on the aprons.   A three piece Mariachi group played during lunch.
Silly Izzy the Clown made balloons into many shapes and painted faces on children and adults alike. One of the cousins coordinated games related to silver, i.e., water balloon toss (with silver balloons, of course!); another cousin brought a large banner with the family tree on it where each family member could put their name on and place it on the proper branch.
Relatives traveled from near and far, many from California but also from Texas, Washington State, Arizona, Virginia and even Mexico.
It was a beautiful day to get family together!