South San Francisco, CA     October 12, 2015    Submitted by John Horgan SSFUSD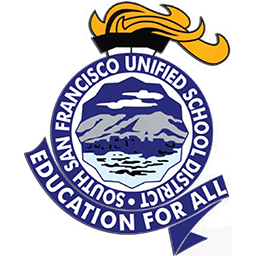 The South San Francisco Unified School District, working with the city's Police Department, conducted a community forum emphasizing student safety on Oct. 8 at Baden High School.
Spokesmen from both entities described practices and procedures designed to ensure student safety in any and all circumstances.
Officer Matt O'Connor noted the Police Department's increased emphasis on the security of the city's young people by pointing out a number of recommendations for both pupils and parents. Among them:
Be alert to your surroundings.
Try not to travel alone, walking confidently.
Don't respond to strangers.
Confide in counselors, teachers, administrators and friends.
Be alert for a possible crime or unsafe behavior.
Officer O'Connor also focused on managing electronic social media, such as texting, tweeting, blogging, online gaming, instant messaging, emailing, online bullying, sexting (sending/receiving nude or suggestive photos), etc.
He recommended that young people (and their parents) adhere to wise use of privacy settings, never sharing your passwords with friends and remembering that anything online becomes permanent and a reflection of you.
Ryan Sebers, the District's Director of Student Services, provided an in-depth look at the District's attention to detail regarding student safety. His presentation delineated how schools prepare for a variety of emergency situations.
He stated that the District is constantly updating and refining its safety procedures with ongoing task forces which include emergency management for schools, mental health support for schools, staff and the community and information sharing and community collaboration.
The agenda and presentation information are available in the "Board Meeting Agenda & Minutes" section of the District website, CLICK HERE