South San Francisco, CA    December 10, 2015    Submitted by SSFPD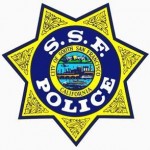 On Thursday December 10, 2015 South San Francisco police officers were conducting surveillance in the Buri Buri / Promenade neighborhoods of South San Francisco in response to a rash of residential burglaries. At approximately 2:20 pm, an officer noticed two suspicious subjects in the driveway of a residence on the 500 block of Hibiscus Way. When the officer attempted to contact the subjects, they fled on foot into the adjacent neighborhood. Additional officers set up a perimeter and several subjects were detained for further investigation. Two local schools were instructed to have their students shelter in place while the neighborhood was searched. It was confirmed that the officer did, in fact, interrupt the residence being burglarized. The subjects were described as a black male in his 20's wearing a light blue sports jacket and blue jeans and a Hispanic male in his 20's wearing a gray sweatshirt and blue jeans.
South San Francisco Police detectives are continuing the investigation into the burglary. Anyone with any information regarding the incident are encouraged to contact the South San Francisco Police Department at 650-877-8900.