South San Francisco, CA   January 18, 2016   Submitted by SSFPD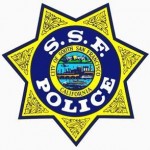 On 1/18/2016, at approximately 11:06 am, a female victim reported that she was robbed on the 100  block of Hickey Boulevard by her ex-boyfriend, Jesse Armstead . The victim stated Armstead forcibly stole her purse, which she was attemptingto hold onto duringthe altercation.  Armstead then  removed $100 in cash from the victim's purse before fleeing the scene. Officers contacted Armstead, who failed to comply with their commands and began resisting officers. Armstead was subsequently arrested without further incident. Neither the officers nor Armstead were injured. During a  search  of  Armstead's belongings, three identification cards belonging to a South San Francisco resident were located.
Armstead was placed under arrest for 212.S(c) PC (strong-arm robbery), 485 PC (misappropriation of lost property), and 148(a)(1) PC (resisting arrest) and booked into the San Mateo County Jail.
The South San Francisco Police Department i,s requesting anyone with information regarding this incident contact the South San Francisco Police Department at 650-877-8900 or the anonymous tip line at 650-952-2244.