South San Francisco, CA                           February 2, 2016                   Press Release 
A flurry of year-end donations helped Mayor Cliff Lentz make his 2015 fundraising goal. Total contributions received in the second half of the year equaled $46,750, bringing his year-end donation total to $67,903. "We are in an excellent position going into 2016, and are excited by the support we are gathering as we move toward the primary," says Mayor Lentz.
Careful expenditure helped Lentz build strong reserves for 2016: "I have been fortunate to have the generous support of graphic designers, printers and restaurant owners. This has helped our campaign stretch every donation dollar."
"I want to raise only what I need", says Mayor Lentz, "I want my donors to know that I am being responsible with their gifts and using their donations to make maximum impact."
Mayor Lentz has received donations and endorsements from, among others: Supervisor Dave Pine, Brisbane Vice Mayor Lori Liu, Brisbane Council Members Clarke Conway and Madison Davis, South San Francisco Vice Mayor Pradeep Gupta, South San Francisco Council Member Liza Normandy, San Bruno Council Member Ken Ibarra, Belmont Vice Mayor Charles Stone and Belmont Council Member Doug Kim.
Strong support by elected officials in San Mateo County has given Lentz's campaign a boost. 27 council members, harbor district commissioners and school district trustees throughout the county have given Lentz their endorsement. San Bruno Mayor Jim Ruane is a recent supporter.
County Supervisor Dave Pine, speaks enthusiastically about Mayor Lentz: "We all know that Cliff is a smart guy, he does his homework, thinks hard about the issues, looks at all sides of things. He is particularly good at working with people, and has a tremendous sense of optimism. We have an extraordinary candidate here: he would service District 5 and the County extremely well."
"The fundraising is a necessity," says Mayor Lentz, "and we have learned how to throw a party!" All of Lentz's fundraisers have attracted standing-room-only crowds, and have become popular events with local politicians and motivated voters.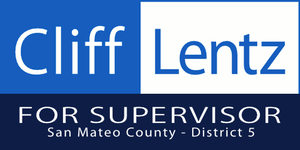 For now, Mayor Lentz is focussing on his goal of meeting as many District 5 voters as possible. "This campaign has been about making personal connections with folks who live in District 5. I listen to their struggles, their challenges, and their vision for the future. Many of their concerns can be addressed at the County level, and I look forward to being able to represent them."
###
For more information on Cliff Lentz's Campaign CLICK HERE