South San Francisco, CA        February 10, 2016     Submitted by SSFPD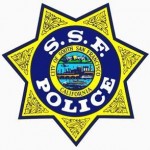 In the early hours on Tuesday morning South San Francisco residents on the 600 block of Grand Avenue called the police to report a hit and run traffic collision. Responding officers contacted 20-year-old Daly City resident Jorge Portillo a couple of blocks away driving a vehicle with moderate front-end damage and leaking motor oil. Portillo fled Grand Avenue after crashing into two parked vehicles.
Portillo failed a series of field sobriety tests at the scene and was booked into the San Mateo County jail for driving under the influence of drugs and leaving the scene of an accident.
Anyone who may have witnessed the collision is encouraged to contact the South San Francisco Police Department at 650-877-8900, refer to Officer Finnegan.