South San Francisco, Ca   February 1, 2016  Submitted by SSFPD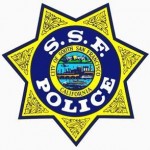 On Saturday evening South San Francisco Police Officers were called to the 200 block of Hilton Avenue on reports of a vehicle that collided into a residence. Arriving officers located three occupants inside of a vehicle that had veered off the road, collided with a fence and came to rest in a backyard.
Investigation revealed that the residence was not struck by the vehicle and the driver, a 97-year-old Daly City resident, became disoriented and ran off the road. The South San Francisco Fire Department transported the occupants of the vehicle to San Francisco General Hospital where they were treated for non-life threatening injuries.