South San Francisco, CA    April 5, 2016  Submitted by SSFPD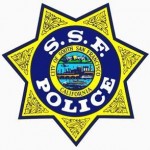 On Monday night at 11:30 p.m., South San Francisco Police Officers and South San Francisco Fire personnel responded to the 500 Block of Miller Avenue on report of a traffic collision. Officers located a vehicle that had collided into several parked vehicles and ultimately flipped over on its side.
The driver of the vehicle was identified as 32 year-old Elfego Garcia of South San Francisco. Garcia sustained non-life threatening injuries and was transported by paramedics to a local hospital for treatment. The police investigation revealed that Garcia had been driving his vehicle while under the influence of an alcoholic beverage. Garcia was found to be driving without a valid license.
Anyone with information regarding this incident can contact Officer Ramirez at 650-829-7209 or call the South San Francisco Police Department Anonymous TIP line at 650-952-2244.