South San Francisco, CA  May 24, 2016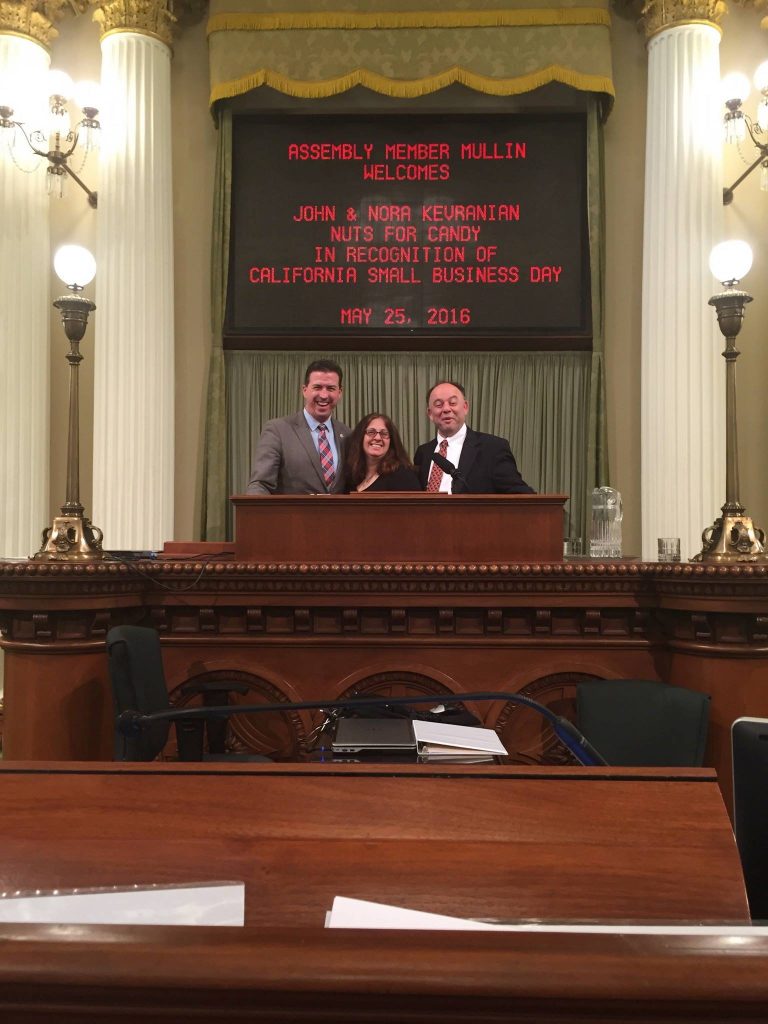 John and Nora Kevranian were honored at the State Capital today as recipients of Small Business of the Year in recognition of their Burlingame business 'Nuts for Candy'.  John, a South San Francisco native, and his wife Nora have been owners of this sweet landmark shop on Burlingame Avenue since 1994 and have grown it into the family business as their children also learn the trade. The store is filled with over 400 types of candies, many that are speciality items difficult to find, and is the perfect stop for any child, young or old.
The Kevranian's are also community leaders and work tirelessly to help the Burlingame downtown district, John is currently President at Broadway Burlingame Business Improvement District. The couple have received multiple awards for their work in the community. John recently received the Community Mentor Award by the Board of Supervisors of San Mateo County and PeninsulaWorks for his outstanding work over this past decade as a mentor to youth in our community. John has also been credited with his work to keep the Armenian Genocide remembered locally and state wide. His grandfather was a survivor of this atrocity, passing in Burlingame in 1980.
Today's Small Business Award comes to them by nomination by Speaker Pro Tempore Kevin Mullin in District #22 and is among on of 80 small business awards of approximately 3.3 MILLION small businesses in the State of California.
In addition to his business and community events, John is a regular contributor to Everything South City. We congratulate John and Nora on this much deserved award and recognition.
UPDATE
Kevin Mullin, Speaker Pro Temporo gave accolades to the Kevranian's at yesterday's event:
'Congratulations to Nora and John Kevranian! Their Burlingame business, Nuts for Candy was District 22's Small Business of the Year for 2015. Nuts for Candy has a long history of supporting the Burlingame Community Education Foundation and PeninsulaWorks. John has mentored dozens of PeninsulaWorks interns and is always willing to share his knowledge of the business world. Thank you both for making to trip to Sacramento for the Awards Luncheon and thank you for your commitment to your community!'