South San Francisco, CA   June 13, 2016  Submitted by San Bruno Police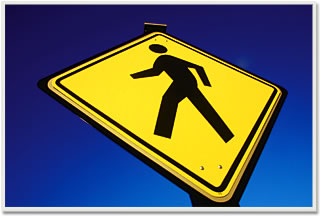 On Wednesday, June 15, 2016, twenty officers from various law enforcement agencies throughout San Mateo County will be participating in the San Mateo County Saturation Traffic Enforcement Program (S.T.E.P.). The STEP program is a collaborative effort to increase traffic safety and awareness in known trouble spots throughout San Mateo County. Tomorrow's deployment will focus on pedestrian safety violations and occur in San Bruno and South San Francisco from 8:00 am to 4:00 pm.

A national study reveals that pedestrians and drivers do not obey laws and signals consistently and many often use cell phones, text and listen to music while walking or driving. Only 60 percent of pedestrians said they expected drivers to stop when they were in crosswalks, even though they have the right-of-way.
The following safety tips can save lives and stop this tragedy witnessed far too often in San Mateo County:

Drivers can:
– Look out for pedestrians, especially in hard-to-see conditions such as at night or in bad weather.
– Slow down and be prepared to stop when turning or entering a crosswalk where pedestrians are likely to be.
– Stop at the crosswalk stop line to give drivers in other lanes an opportunity to see and yield to the pedestrians too.
– Be cautious when backing up – pedestrians, especially young children, can move across your path.

Pedestrians can:
– Be predictable. Follow the rules of the road, cross at crosswalks or intersections, and obey signs and signals.
– Walk facing traffic and as far from traffic as possible if there is no sidewalk.
– Pay attention to the traffic moving around you. This is not the time to be texting or talking on a cell phone.
– Make eye contact with drivers as they approach. Never assume a driver sees you.
– Wear bright clothing during the day and reflective materials (or use a flashlight) at night.
– Look left-right-left before crossing a street.

The San Mateo County Police Chiefs and Sheriff Association are working together to collectively focus on reducing the number of injuries and traffic collisions throughout San Mateo County. San Bruno and South San Francisco residents may notice that there are police officers from throughout San Mateo County enforcing safety violations, in their respective communities.

This is the sixth deployment in a number of planned multi-agency saturation deployments scheduled to be performed throughout San Mateo County in 2016. The San Mateo County Police Chiefs and Sheriff Association have all committed to this important safety initiative.