South San Francisco, CA   June 15, 2016

The San Francisco Wine School has become a favorite of South San Francisco's newest Grand Avenue business' and there is a great buzz around town from those who have checked out this great addition to our City. Located in our historic 415 Grand Avenue Brick building, their new Summer Series Line Up includes Wine Wednesdays, Thirsty Thursday Tasting and Foodie Friday events which can be attended individually or sign up for each series.
"This week is all about Food & Wine Playing. Wednesday (June 15th) we have a Food & Wine Pairing Lab workshop, Thursday we have a "Do Points Matter?" pop-up wine bar and Friday we have the ultimate Food and Wine Pairing dinner."  Kristin Campbell, the CFO at SF Wine School told us "All in our gorgeous new Wine Education & Events Center"
Because we have heard such great things about the San Francisco Wine School we look forward to attending one of the summer series and we hope to see you there too!  "He who clinks his cup with mine, Adds a glory to the wine." -George Sterling
To learn more about The San Francisco Wine School CLICK HERE
Summer 2016 is jam-packed with special workshops, tastings, food & wine playing meals, and movie events! Take a look at all of their fun offerings:
Wine Wednesdays – casual versions of our most popular workshops
Beef up your wine knowledge for that summer trip abroad or indulge yourself in a mini staycation by taking a virtual tour and tasting through your favorite wine regions around the world! From June 8th through Aug 24th San Francisco Wine School presents casual versions of our most popular workshops from our regular curriculum. Explore blind tasting, food & wine pairing, or the history of famed regions and their role in today's wine world while learning about their climates, soils, grapes and styles that make each place unique.
8-10 wines will be tasted and discussed in each 3-hour workshop. Classes run 6-9p on Wednesdays.
Thirsty Thursdays – walk-up edu-tasting bar with paired small bites. Find what you like then sit relax and enjoy the views with collegues & friends
From June 9th through Aug 25th, 2016, San Francisco Wine School opens its doors from 5:30-7:30pm for Thirsty Thursdays! Enjoy a themed walk up edu-tasting bar hosted by one of our industry leading instructors. Then choose a glass of your favorite and some paired small bites, pull up a chair and enjoy the view! It's a perfect way to take in our gorgeous new wine education center with friends!
Foodie Fridays – 4 courses and 8 wines to "play" with served at community tables and guided by one of our amazing SFWS Instructors
Take your inner foodie on a tour of the palate this summer with gourmet meals and wines of the world as San Francisco Wine School opens its doors for Foodie Fridays! Enjoy an exquisite 4 course meal prepared by Resident Chef Danae McLaughlin with 8 wine pairings and narration by Master Sommelier David Glancy.
Bubbles will be served at 6:30pm and Dinner is from 7-9pm.
Summer Movie Screenings – fun wine movies with narration, tastings & Q&A by Master Sommelier David Glancy
Join us for interactive movie screenings at our Wine Education Center this summer. Each movie event will include some bites and sips, a wine-themed move and a Q&A session with some of the stars.
All attendees must be 21+ years.
To learn more about The San Francisco Wine School CLICK HERE
The San Francisco Wine School is known for their high quality courses which include certification programs: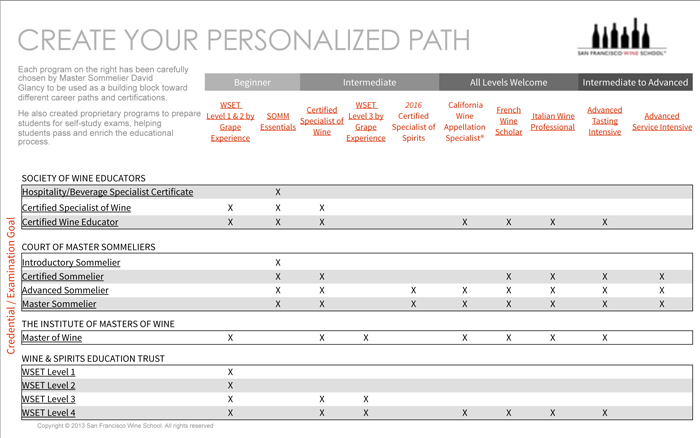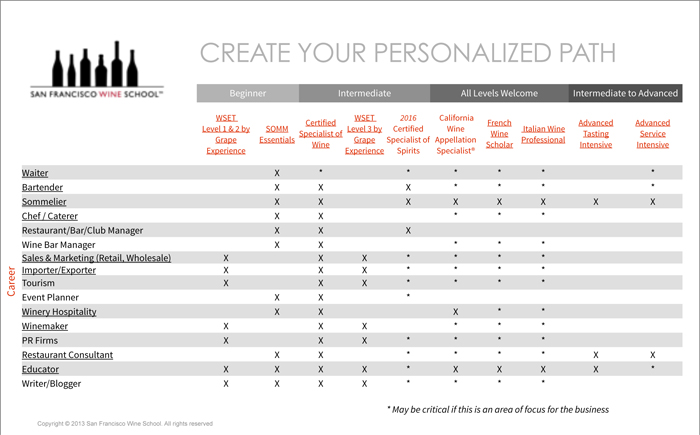 ABOUT SAN FRANCISCO WINE SCHOOL
San Francisco Wine School strives to open up the world of wine to serious students and enthusiasts everywhere while helping people of all levels break into the wine industry, advance their career, or simply pursue their passions. Founded by Master Sommelier and Certified Wine Educator David Glancy, San Francisco Wine School is the largest wine school in the U.S., offering the most thoughtful approach to wine study. Classes are taught in our state of the art wine education center and our cutting edge virtual classroom by industry-leading instructors from all major educational disciplines.
San Francisco Wine School's curriculum features the best content in the business: expert course materials, carefully conceived wine flights, and in-depth blind tasting exercises designed to engage students, illuminate course content and enhance learning. Our brand new sunlight-filled Wine Education Center is conveniently located just 5 minutes from San Francisco International Airport. It boasts 16-ft high coved ceilings, eight 12-ft tall arched windows, and gorgeous 180 degree views of the San Bruno Mountains, South San Francisco City Hall and the San Francisco Bay, making it the perfect place to enjoy classes, industry seminars and tastings and host a wide variety of private events.