South San Francisco, CA     July 29, 2016     Submitted by Jim Chazer 
You guys may have already done this but, if you haven't, you may want to spread the word that BART is going to be messed up this weekend. No service between Daly City and Glen Park, so they'll have a bus bridge that will add 30-45 minutes to your trip.
It looks like this is going to happen on multiple, but NOT ALL weekends into October. Go to BART.gov to find a schedule of weekend work.
###
From BART WEBSITE
07.27.2016
Weekend closures between Daly City & Glen Park Stations July 30-31-mid October
Weekends (Subject to change—we will update this page as necessary):
July 30 & 31
August 13 & 14
August 20 & 21
September 3, 4, & 5 (Labor Day Weekend)
September 17 & 18
October 1 & 2
October 15 & 16
Chinese (在中文) Spanish (En Español)
We have to close the tracks between Glen Park and Daly City stations on multiple weekends between the end of July and October including Labor Day weekend. We will be making vital repairs to our tracks including adding sound dampening equipment to the curved trackway in order to reduce noise from the trains. Crews will work 24 hours a day during the shutdown. Other work will include improvements to Balboa Park Station and tree trimming along the trackway. Map of closure between Glen Park and Daly City
Balboa Park Station will be closed.
The closure will cause 20-40 minute delays to your travel–SFO and Millbrae passengers should add 1 hour to their trip.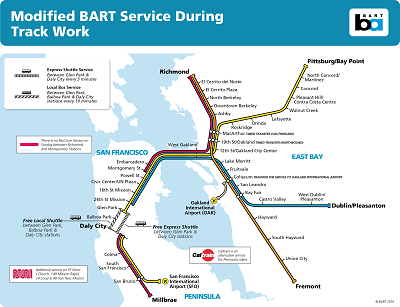 SamTrans will provide free express shuttle buses between Daly City and Glen Park stations. The bus ride will take approximately 15-20 minutes and all buses will be accessible. SFMTA will provide a free local shuttle for the three stations: Glen Park, Balboa Park, and Daly City. This local service trip should take 10 minutes between Glen Park and Balboa Park station and 15 minutes between Balboa Park and Daly City station. There is additional regular paid service available from SFMTA on the J Church, 14R Mission Rapid, 14 Mission, and 49 Mission-Van Ness lines that provide service to BART stations like Glen Park and 24th Street.
Caltrain service will run as usual and may be a good alternative for folks travelling to/from Millbrae Station or elsewhere on the Peninsula. Peninsula passengers may wish to take Caltrain to Giants games.
Service from Richmond (Red line) will be limited and will stop at Montgomery Station. There is no Red line service on Sundays between Richmond and Montgomery stations. Pittsburg/Bay Point line train service will end at Glen Park station. Dublin (Blue line) trains will stop at 24th Street station. Passengers on trains from Dublin going to Daly City or SFO/Millbrae will need to transfer to a SFO train at 24th Street and then transfer to the free shuttle bus service at Glen Park to continue to Daly City. There will be no direct Fremont to Daly City (Green Line) service at all on Saturday only regular Orange Line service (no extra trains)–which means passengers travelling to San Francisco and other West Bay stations will need to transfer as well.
From Daly City there will be trains to/from Millbrae and trains to/from SFO. Customers will need to follow signs and directions from BART employees to board the correct train for their destination.
We will have extra staff and signs at the stations to help you with your trip. Please be aware that all travellers on our system during these shutdown weekends will experience delays. Please plan on adding extra time to your trips. We understand that this will be inconvenient for you and appreciate your patience.
Watch how BART is working to make your ride quieter – click here to view some of the special equipment we're using and an explanation of how it works.
Updated: July 21, 2016