South San Francisco, CA   July 8, 2016 Submitted by SSFPD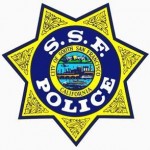 On 07-08-16, traffic officers were out enforcing speeding violations in the area of Hillside Boulevard at Holly Avenue. During the operation, officers recognized a vehicle leaving the area as being driven by (S) Eamon Corry. Officers recognized Corry because he is a repeat DUI offender who has a suspended driver's license. Officers attempted to stop Corry and he abandoned his car nearby on Evergreen Drive and he attempted to flee on foot. Officers quickly caught up to Corry and he surrendered without further incident.
In addition to driving on a license that had been suspended for a previous DUI conviction, Corry was also found to be under the influence of an alcoholic beverage. An investigation was completed and Corry was placed under arrest for violation of: 14601.2(a) CVC (driving with a suspended license), 23 l 52(a) CVC (driving under the influence of an alcoholic beverage) and for 23550(a) CVC (fourth DUI within 10 years).
The South San Francisco  Police Department  actively works  with the Department  of Motor Vehicles  and the Office of Traffic Safety on the DUI Hot List program.  This  is a program  that  identifies  repeat DUI offenders who have suspended drivers licenses. An offenders on the list are provided a notice about their convictions, told about the Hot List program, and are warned not to drive. The South San Francisco Police Department regularly disseminates a list of known DUI Hot List offenders to all traffic and patrol officers. Throughout the year, specially-trained officers also conduct undercover  surveiHance operations  on Hot List offenders and watch their homes or workplace. Offenders caught driving are subject to immediate arrest for driving on a suspended license and are subject to additional DMV sanctions and criminal charges.
Studies and research conducted by the DMV shows a staggering 75% of drivers who are convicted of DUI continue to drive despite having their drivers licenses suspended or revoked. Repeat DUI offenders in California are involved in 24% of fatal DUI crashes and 63% of injury DUI crashes. These statistics show why programs like the DUI Hot List are important in our efforts to reduce these numbers.
Funding for this operation was provided by a grant from the California Office of Traffic Safety, through the National Highway Traffic Safety Administration.