South San Francisco, CA   July 29, 2016  Submitted by SSFPD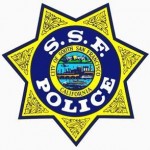 On Thursday night at, approximately 10:41 P.M., South San Francisco Police Officers and South San Francisco Fire personnel responded to the 500 Block of Baden Avenue on the report of a traffic collision. Officers located a vehicle that had collided into several parked vehicles and ultimately sustained major body damage.
The driver of the vehicle, identified as 22 year-old Brandon Gomez of South San Francisco, was found still seated in the driver's seat. Gomez sustained non-life threatening injuries and was transported by paramedics to a local hospital for treatment. The police investigation revealed that Gomez had been driving his vehicle while under the influence of an alcoholic beverage. Gomez was ultimately placed under arrest for driving under the influence of an alcoholic beverage and released to the hospital staff for further medical treatment.
Anyone with information regarding this incident can contact Officer Ramirez at 650-829-7209 or call the South San Francisco Police Department  Anonymous  TIP line at  650-952-2244.