South San Francisco, CA    August 21, 2016 press release Consortium Media
Experience Corps Bay Area expands literacy program into San Mateo County, seeks volunteers age 50+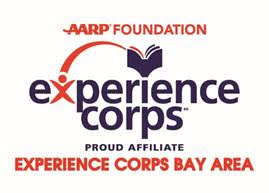 Program aims to match 50 older volunteers with students to boost reading scores
(SAN FRANCISCO)—Experience Corps Bay Area's volunteer literacy program, praised by both teachers and volunteers for its effectiveness with students, is expanding into San Mateo county schools and needs 50 adult volunteers to help county elementary school students boost their reading scores.
The ECBA program will provide literacy volunteers in five schools, including Woodrow Wilson Elementary and Daniel Webster Elementary in Daly City, Los Cerritos Elementary and Spruce Elementary in South San Francisco, and Selby Lane Elementary in Atherton.
Half of San Mateo and Bay Area students aren't reading at grade level by grade 3. However, 73 percent of students receiving sustained tutoring from ECBA volunteers increased their reading proficiency by one grade level. Nearly all (99 percent) of teachers reported a benefit to their students from the program, and 100 percent of tutor/volunteers were satisfied with their work.
ECBA is a program of the leading human services agency, Aspiranet, in which adult volunteers engage with students for one-on-one and small group literacy tutoring. Earlier this year, the AARP Foundation, a grantee of the Social Innovation Fund (SIF), awarded a four-year matching grant to Aspiranet and ECBA to help expand their program into San Mateo County.
ECBA is currently recruiting volunteers for this school year, which begins in August for most San Mateo County schools. Prior classroom experience is not required. Prospective volunteers may contact ECBA's Volunteer Recruitment Coordinator Eric Nelson at 415-759-4222 ext. 7315, or ECBAIntakeCoordinator@aspiranet.org.
Throughout the Bay Area, the literacy program has drawn praise from both volunteers and teachers. "One of my first grade students started very slowly this year," said Cynthia Chin-Perez, a volunteer at Cleveland Elementary School in San Francisco. "He gradually gained confidence. He loved Pokémon and would bring his Pokémon cards to our sessions which I would help him read. This spring he was reading at a third grade level."
"My Experience Corps tutor has reached my four focus students and so many more!" said Luba Hancook, teacher at Washington Elementary School in Berkeley. "He has helped my focus students get to grade level! He is warm and understanding with my struggling kids. He provides one-on-one time to kids who need it most. He is an amazing role model and the kids clamor to get his time! He is invaluable to me in the classroom."
About Experience Corps Bay Area
Experience Corps Bay Area mobilizes, trains and matches adults aged 50 and older as literacy tutors and mentors to elementary school students who are struggling to reach their grade level in reading. ECBA serves 23 of the lowest-income schools throughout the Bay Area in San Francisco, Oakland and Berkeley and now San Mateo County. The program is a win-win for the community, as adult tutors stay active and give back in a meaningful, measurable way, while the students receive consistent, individualized academic and social-emotional support. For more information about the program, visit www.experiencecorpsbayarea.org.
About Aspiranet

Aspiranet, a nonprofit 501(c)(3) strengthens children, youth, families and communities through seven core programs including: Foster Care, Adoption, Residential, Transition Age Youth, Behavioral Health, Intensive Home Based Services and Family and Community Services throughout 45 locations within California.
Founded in 1975 as a six-bed group home for young boys in Moss Beach, Calif., Aspiranet is one of the most diverse nonprofit social service agencies in the state. With a statewide network of innovative services, Aspiranet serves more than 10,000 families each year. For more information, please visit www.aspiranet.org.
###