South San Francisco, CA    August 29, 2016   Submitted by SSF Parks & Recreation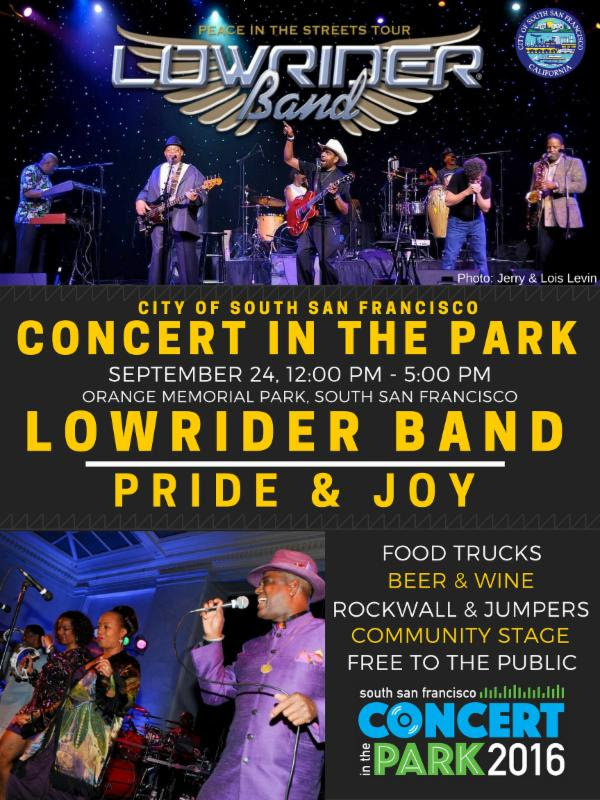 The South San Francisco Parks and Recreation Department is pleased to present the second annual Concert in the Park on Saturday, September 24, 2016 from 12:00 pm to 5:00 pm on the soccer field at Orange Memorial Park, located on West Orange Avenue at Tennis Drive in South San Francisco. Building on the success of last year's event, which brought out 2,000 concertgoers, the 2016 Concert in the Park will feature two stages to entertain audiences. Attendees will enjoy music by headlining act, Lowrider Band, Bay Area favorite, Pride & Joy, and performances by local community groups.
This fun and free family-oriented community event will also feature activities for all ages including dancing, a rock climbing wall, bounce houses, and an indoor children's play area. Hungry concertgoers can look forward to enjoying a meal from a variety of food trucks and tasty treats from the South San Francisco Farmers' Market. Beer and wine sales will be available by the Friends of Parks and Recreation, a nonprofit volunteer citizen's group organized to support parks and recreation activities in South San Francisco.
About the Bands
Since 1962, members of Lowrider Band have compiled a tapestry of quintessential songs and live performances so musically infectious that its moniker traces from Los Angeles to Mexico City and from London to Copenhagen. And the genius of these musicians is captured in the musical medley of Hispanic, African-American, Asian and mainstream cultures, resulting in monster compositions such as "Slippin' into Darkness," "Low Rider," "9 to 5 (Ordinary Man)," "All Day Music" and many other chart-toppers.
Comprised of four prolific, multi-platinum singer-songwriters, Howard Scott (guitar), Harold Brown (drums), Lee Oskar (harmonica) and B.B. Dickerson (bass), this dynamic team of accomplished musicians is guilty of dishing up many of the greatest tunes to permeate airwaves since the dawn of radio: "The Cisco Kid," "Why Can't We Be Friends," "Spill the Wine" and "The World is a Ghetto" are a few more mega-hits they composed and performed over the years. A plethora of these hits have been sampled and recorded by major artists, including the smash single "You" by singer Janet Jackson. Completing the seven-member posse and lending harmonious support to their distinctive sound are Lance Ellis on saxophone and flute, Pete Cole on keyboards, and Chuk Barber on percussion.
Pride & Joy has remained the most popular party band on the Bay Area music scene during its many years of phenomenal success. This group is the Pride of the Bay Area and a Joy to anyone who loves to dance. They have achieved this by presenting the most timeless pop/soul music of our time in an electrifying high-style show that pulls the audience directly into the heart of their performance. This band can play anywhere from the most popular clubs on the circuit to wedding receptions, the top society parties and corporate events; everybody, everywhere, instantly relates to the music.