South San Francisco, CA   November 8, 2016  Submitted by Dr. Catherine Vista,  Vista Dental Care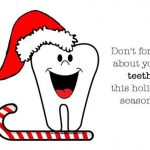 3 Ways To Prevent Holiday-Related Oral Care Nightmares
      Brush & Floss After Eating Super Sweet Treats
In addition to flossing and brushing for at least two minutes every morning and evening, it is important to also brush and floss anytime you chow down on—or sip on—a food or drink item that contains a lot of sugar.
We suggest picking up a travel-sized toothbrush, toothpaste and floss set and sticking this in your purse or glove compartment so that you can access it as soon as possible after indulging in sugar-laden snacks.
      Drink Plenty Of Water
Begin and end your day with a big glass of H20, with other sipping sessions sprinkled in throughout your day. And do your best to avoid flavored coffee or autumnal alcohol drinks. If you do decide to gulp down a not-so-great-for-you beverage, follow it up with a similarly-sized cup of water (after you brush and floss, of course).
The good news about this tip is that it is pretty easy to do and that it doesn't just impact the health of your mouth; it's good for your entire body.
      Don't Skip Your Dental Appointments
The holiday season is full of festivities, activities and long to-do lists, which may make squeezing in a visit to your dentist rather tricky. It is vital that you make this a priority though, since not addressing oral health concerns as soon as possible may cause them to worsen or develop into something more serious.
Here's to a happy and mouth-healthy holidays!
###
South San Francisco Dentist Dr. Catherine Vista is a family dentist offering general and cosmetic dentistry at Vista Dental Care. Dental care services include exams, teeth whitening, invisalign and more. You can follow her blog for more timely information on our dental health, including how to check for oral cancers.  CLICK HERE