South San Francisco, CA  November 4, 2016  by Bill Demeter
Since it seems the City is not going to do anything to fix the LED street lighting issue they created without citizens keeping their feet to the fire, I have a suggestion for a remedy the home owner can perform. Of course, the remedy would be more effective if the City got most of the residents to participate.
I sent the following email to Dave Bockhaus (Public Works) and Vice Mayor Gupta in August. While Mr. Bockhaus assured me he would look at the light, I have not heard from him.
Mr. Bockhaus:
When you met with our lighting group in March, you mentioned looking into a porch light program as a possible remedy to the street light problem. Having just replaced my porch light with what I thought was a state of the art LED, motion detecting light, I discounted the possible effectiveness of such a program.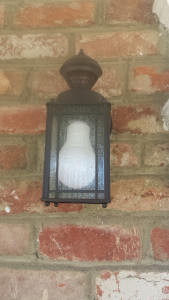 Since then, I replaced my neighbor's porch light (picture attached), and I'm happy to report the results have me rethinking the porch light remedy. The light is a Hampton Bay HB-4133-OR, with a 100 watt LED Bulb. It detects motion in the street, sidewalk, driveway and walkway, and effectively illuminates all of these areas. It can be set to illuminate for 1,5 or 10 Minutes after motion has stopped. It Sells at Home Depot for around $50, not including the bulb.
If most of the homes on a street had these porch lights, I can imagine a pedestrian walking down the street, having the sidewalk and street illuminated as they walked. Of course, the light would turn off when there is no motion. The motion detector reacts to heat, so wind movement from yard trees doesn't trigger it.
I noticed that you and Mayor Addiego visited Davis, with the result apparently being a recommendation of lower wattage street lights. While this will reduce the contrast between the illuminated and dark areas, I don't see how it could improve lighting in the dark areas. Given the space between most of the light poles in SSF and the fact that returning to the use of HPS lights is not practicable, I think it would be worthwhile to investigate the porchlight option. Given the fact that the City could obtain the lights at a wholesale price and would take minutes to install, using porch lights like these to solve the street light deficiency might be viable. Given the improved illumination and the efficiency of the LED lighting, the homeowner shouldn't mind providing the electricity as a tradeoff when provided a light.
Feel free to stop by after dark and look at Mrs.*********'s light. I think you will be impressed with it's performance, currently set to stay on for 5 Minutes. It could be a elegant , cost effective solution to what has proven to be a ungainly problem.
Thanks,
Bill Demeter