South San Francisco, CA   December 8, 2016 
Proudly in step with our small town feeling, Angel Fernandez is set to give back to our community. To South San Francisco High School Auto Shop to be precise. "I graduated SSFHS in 07" Fernandez tells us "And it really makes me happy that we can give back to the school and city I grew up in!"
The event, a Car Show and Toy Drive sponsored by Bay Area Certified Car Club, will take place on the school grounds on Saturday December 17th from 10-4pm and the entrance fee is $10 with a donated toy, or $20 without a toy to donate. All car clubs are invited to show that day.
The public is invited to this FREE event – please bring a donated toy if possible!! Come out and enjoy and bring your family and friends!! *(updated)
"The proceeds will be given to the Automotive Class at South City High" Fernandez said.
Please consider attending, it looks to be a great event and well… it proves we really are a small town after all!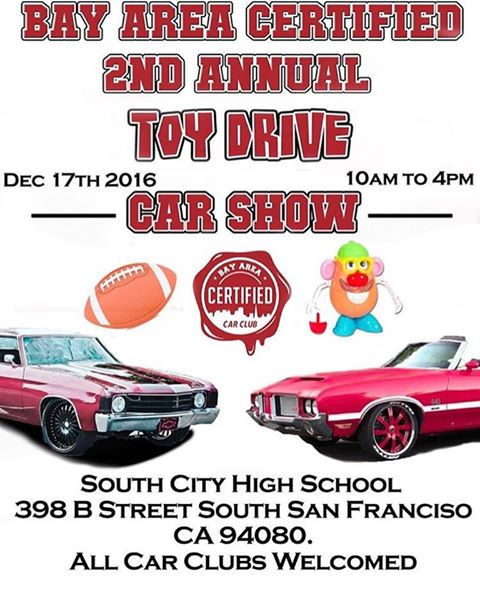 ###
About Bay Area Certified Car Club
Bay Area Certified Car Club was established in 2015. The car club consist of old school to modern day muscle cars. Bay Area Certified also host events such as food and toy drives to give back to the less fortunate. Bay Area Certified Car Club was looking for a new identity that would represent their members as well as their vehicles. The new logo would be on each members vehicle as well as their apparel, to identify who they are within the car club community. The car club wanted a logo that would visually communicate Bay Area Certified. They had ideas of incorporating a wax seal stamp to their new identity, along with iconic elements representing San Francisco, California.