South San Francisco, CA   May 12, 2017  Submitted by Commodore Dale Fajardo, Senior Advisor to the National Commodore, Flotilla Commander 113-01-09
U.S. Coast Guard Auxiliary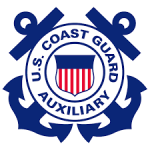 U.S. Coast Guard Auxiliary Flotilla 1-9, District 11NR (Northern Region), of Coyote Point in San Mateo, is offering free Vessel Safety Checks from 8 a.m. to 1 p.m., May 20, at the Pillar Point Harbor launch ramp in Half Moon Bay.
The Safety Checks are part of National Safe Boating Week (
May 20-26
), which began in 1957 and is sponsored by the U.S. Coast Guard and the U.S. Coast Guard Auxiliary, U.S. Power Squadron, National Association of State Boating Law Administrators, and other boating safety groups. The National Safe Boating Week theme is "Wear It!" which promotes life jacket and boating safety by encouraging boaters to wear life jackets at all times while on the water. More than 600 people drown each year in recreational boating accidents. The 2015 Recreational Boating Statistics compiled by the U.S. Coast Guard showed that more than 76 percent of fatal boating accident victims drowned. Of those, 85% were not wearing a life jacket. For more details about National Safe Boating Week, visit: 
www.safeboatingcampaign.com
 .
Personal pleasure craft to include power and sail boats, jet boats and jet skis, and canoes and kayaks are all welcome to be checked. The safety check reviews the vessel's overall condition to ensure compliance with federal and state requirements; however, non-compliant items are not reported to any federal or state agency. If the boat meets requirements, a one-year Vessel Safety Check decal is awarded; if the vessel does not pass, the items can be corrected within a specified time and be re-checked. During the safety check, the following items will be reviewed: registration/documentation, life jackets, distress signals, fire extinguishers, backfire flame control and navigation lights. Examiners also discuss safe boating topics, such as float plans, charts/aids to navigation, survival tips, fuel management, and weather awareness. Information about life jackets, kids boating safety, and State and Federal rules. Additional resources will be available at the event to include coloring books and stickers for children. Boaters who cannot make it to Pillar Point can go to: 
wow.uscgaux.info/content.php?unit=V-DEPT&category=i-want-a-vsc
 to request a vessel safety check.
More than 25,000 Auxiliarists assist boaters on U.S. waterways, in the air, in classrooms and dockside; perform security/safety checks, vessel safety checks; and provide boating safety education. Coupled with USCG Auxiliary Boating Safety Education programs, the voluntary 15- to 30-minute Safety Checks are an easy way for new boaters to learn how to be safe on the water and provide "refresher" information for seasoned skippers.
For questions about this event or to learn more about the Coast Guard Auxiliary and Flotilla 1-9, call Dan Swett, vice flotilla commander and marine safety booth chairman, at 
619-921-3542
 or email: 
scafurniture@yahoo.com
.