South San Francisco, CA   May 31, 2017    Submitted by William Shon
TIP (Trades Introduction Program) San Mateo is holding an orientation on SATURDAY, JUNE 3, in San Mateo.
SATURDAY, JUNE 3, 2017. 9:00 AM SHARP AT
IBEW LOCAL 617 UNION HALL, 1701 LESLIE STREET, SAN MATEO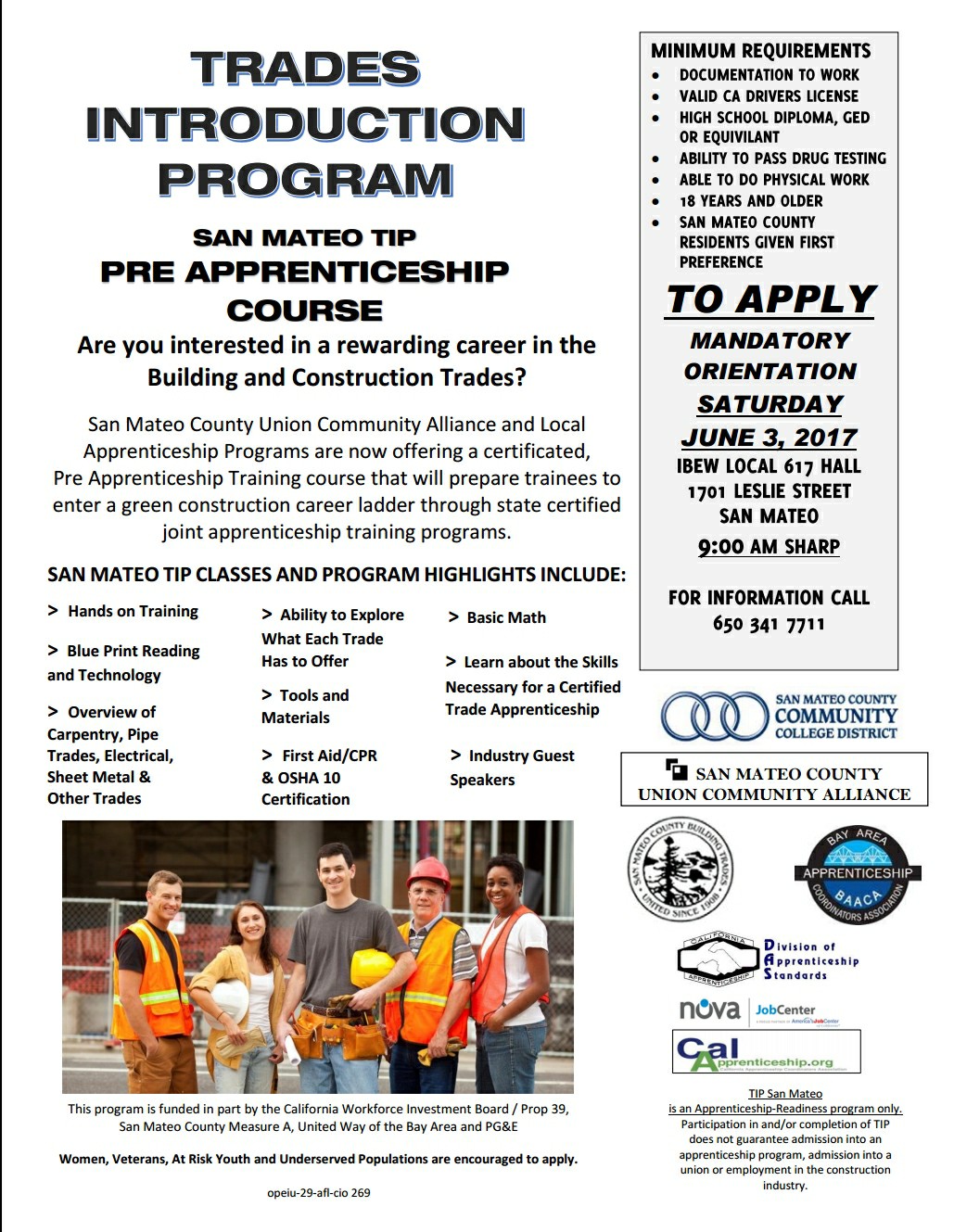 ATTENDANCE AT THE ORIENTATION IS MANDATORY.
Please contact Rayna Lehman, 650 341-7711 for information.
Disadvantaged youth, women, under-served minorities and veterans/people who served in the military are strongly encouraged to apply.
Trades Introduction Program /TIP San Mateo is a certificated preapprenticeship course that will help trainees navigate the construction sector, offering them exposure to a wide variety of trades, what it takes to choose an appropriate career path for their skills and interests and how to apply to become a working apprentice.
TIP does not guarantee employment.
In cooperation with state certified joint apprenticeship training programs, TIP San Mateo delivers the nationally approved Multi-Craft Core curriculum and prepares trainees to enter a green construction career ladder.
There is no fee for the course. Applications are only accepted at the scheduled, mandatory TIP Orientation
Rayna Lehman, Director
AFL-CIO Community Services / San Mateo County Central Labor Council
Labor Liaison to United Way of the Bay Area
Phone 650 341-7711
Fax 650 572-2481