South San Francisco, CA    June 20, 2017 
We all know how windy South San Francisco can be and we all need to step up our game keeping our City litter free. Thanks to the Scavenger Company for providing some great tips to help us with one big problem area; our garbage bins.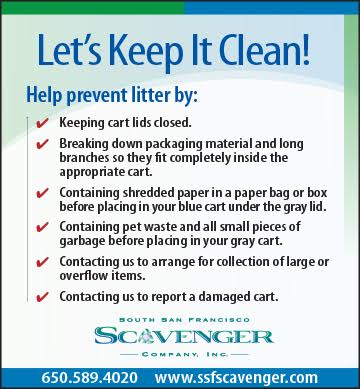 Too often we have neighbors stuffing so much into their weekly bin to the point the lid will not close properly. This creates problems; it becomes a treasure trove for rodents, crows, seagulls etc, AND allows trash to blow away and onto other neighbor properties, down the street, and into our catch basins, which carries our trash out to SF Bay. And then to the ocean creating a long trail of damage through out the journey as birds, animals, and absorb our garbage which was never meant for consumption! Plus the encouragement of rodents is unhealthy and the increased crow/raven population can unbalance our local birds and wildlife.
In South City there are times the Scavenger may notify us that we have been a repeat offender with overstuffed bins and we are wise to heed the warnings and change our habits. In Brisbane, where residents are also served by SSF Scavenger Company, habitual offenders that do not have the lids closed flat are  subject to being sent a warning letter, and continued incidences can be charged an extra $30, plus the cost of the extra trash, and would eventually be referred to code enforcement for follow up.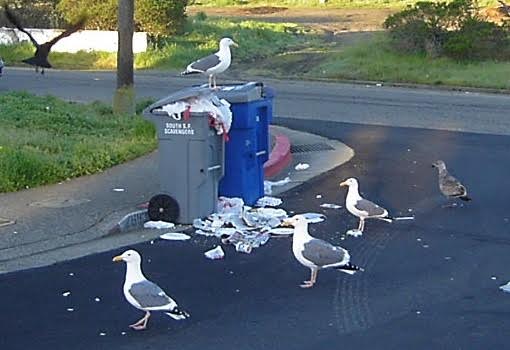 Everything South City continues to receive complaints from neighbors regarding debris that remains after our trash has been picked up; the overflow of garbage that has blown away during the transfer from bin to truck. The Scavenger's encourage residents to stash shredded paper, newspapers, junk mail, etc. into paper bags or cereal boxes to help reduce this problem. And again, by not over filling our bins we can help keep our City clean!
Most of us end up with extra 'stuff' that needs to be dumped regularly and our Scavenger Company has a remedy for that – and it's FREE!! Yep, take advantage of the TWO FREE annual clean ups they offer, it's a great opportunity to get rid of a large bulky item and/or several bags of garbage. More info CLICK HERE In addition, there is information available about dumping hazardous materials such as oil, paint, etc which can be found CLICK HERE. To keep your old medicines and syringes out of the landfill and water ways you can bring them to the South San Francisco Police Department (33 Arroyo Drive) or Fire Station 61 (480 N. Canal) and drop off at the receptacles for FREE. More info CLICK HERE
Help keep our neighborhoods looking good by stashing your bins out of public sight, not only does this improve our property values – it's an ordinance (MC 8.16.040 see below for full text) we should be observing. While this isn't a priority for our code enforcement, they still oversee this concern and will take appropriate action if/when needed.
The bigger picture is the need for every City to abide regional requirements for, reducing and eliminating litter which ends up in storm water, and being carried into our creeks, streams, and therefore into the Bay, and eventually out into the ocean, cities are looking to implement more stringent programs – like the Brisbane program. The Scavengers are committed to realizing Zero Waste and can only do that with our help.
They have been participating along with city staff in a countywide litter work group which has been gathering information and implementing a number of programs to keep litter out of local waterways. Catch basin installation, adopt a storm drain, and citywide cleanup events have been part of recent efforts in SSF. Future steps may include an investment in carts with locking lids and implementation of extra charges and/or regulatory fines for those that don't keep their lids closed, and trash contained.
In 2013, they began construction on the nation's first anaerobic digestion facility that processes food scraps into compressed natural gas (CNG), which fuels their collection fleet and their efforts have been recognized with multiple community awards. Line Transfer Inc., was the recipient of the National Waste & Recycling Association's (NWRA's) 2015 Recycling Equipment Innovator of the Year Award for its Blue Line Biogenic CNG Facility during the Waste360 Recycling Summit. For more on their sustainability program CLICK HERE
There is a lot that the Scavengers do behind the scenes to help reduce our impact on the earth and by doing our part we can make our City, and our world, a cleaner and healthier place to call home.
South San Francisco Ordinance 8.16.040 Location of receptacles on designated collection days.
Solid waste receptacles shall not be placed within the limits of any street, road, avenue, public way, alley or public place, or in a manner which blocks a sidewalk or constitutes a public nuisance in complying with the provisions of this section. On the designated collection date, solid waste receptacles shall be placed as follows:
(a)   Single-Family, Duplex and Triplex Residential Properties. Solid waste receptacles for single-family, duplex, and triplex residential properties shall be placed two feet apart and three feet away from any vehicle or obstacle with the cart wheels against the curb and handles facing the residence. An alternate location may be permitted for the following:
(1)  The premises for which such a location may constitute a nuisance;
(2)  Premises for which placement against the curbside is not possible; and
(3)  Premises for which the owner or occupant has subscribed for backyard pickup service.
(b)  Multiple Unit Residential Properties, Commercial and Industrial Properties and Institutional Properties. Solid waste receptacles shall be located in a place on the premises which is readily accessible for removal and emptying by the scavenger. (Ord. 1431 § 1, 2010; Ord. 1208 § 2, 1997)