South San Francisco, CA   October 25, 2017   Sponsored by South City Grocery Outlets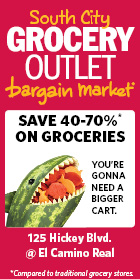 Many South City neighbors are searching out the best neighborhoods to take their little gremlins trick or treating. "The community infront of Orange Park. Those big houses, I cannot recall the name." wrote Yessenia S "They have the nicest people, great place for little kids and big kids a like!"  and Amanda B suggests "Park Way -we got big chocolate bars!"
Why not make YOUR neighborhood the best place by picking up some favorite treats at some very favorable prices at South City Grocery Outlet. Owned by South City neighbors, Michelle and David Radcliffe, this store is our go to for the best deals in town. And the friendliest service.
Stock up now – and come back weekly for other great savings! Support those who support us!
Check out this week's deals HERE
Sign up for their weekly online circular HERE and save $3 off your first visit!!
To read more about Michelle and David click HERE