South San Francisco, CA  October 29, 2017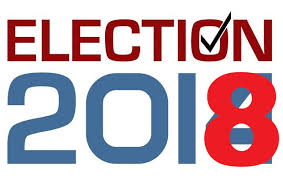 The South San Francisco 2018 General Elections will offer a multiple opportunities for candidates as well as voters as the ballot will open 3 seats on our City Council, 1 seat for City Clerk, 1 seat for City Treasurer, and 3 seats for the School Board.
To learn more about the School Board CLICK HERE.
To learn more about City Council, Clerk, Treasurer positions CLICK HERE.
City Office Seats Open Per Website: City Clerk, City Treasurer, 3 City Council Seats
Date of Election
Tuesday, November 6, 2018
Municipal elections in South San Francisco are consolidated with San Mateo County.
Polls Open
7:00 a.m. to 8:00 p.m.
Candidate Eligibility
Citizen of the United States
Registered voter and resident of South San Francisco
18 years of age or older.
Term of Office
Three (3) City Council seats, each a four (4) year term
term ending November, 2022 (Gupta, Normandy, Addiego terms end 2018, Garbarino, Matsumoto terms end 2020)
City Treasurer, four (4) tear term ending November 2022 (Current Frank Risso)
City Clerk, four (4) year term ending November 2022  (Current Krista Martinelli)
Mayor
Each year in November or December, the City Council rotates the Mayor and Vice Mayor from among its members. The Mayor and Vice Mayor each serve a one-year term.
Council Meeting Schedule
City Council meetings are held the second and fourth Wednesday of each month beginning at 7:00 p.m., (Successor Agency begins at 6:30 p.m.); but additional meetings are scheduled as needed. A meeting in August is generally cancelled due to Council hiatus.
Council Meetings
Special meetings may be called at any time by a majority (three  (3) members) of the Council regarding specific business that has been stated.City Council may hold "Closed Sessions" to consider any matter permitted by State law. Three members of the Council constitute a quorum.
Councilmember Compensation
Compensation is $500 per month; Council members sit as Successor Agency Boardmembers, which receives no compensation. Health benefits are also covered by the City.
South San Francisco School Board: 3 Trustee Seats
The 2018 General Election will also include 3 open Trustee seats open in the South San Francisco Unified School Board, each seat serves a 4 year term. School board meetings are held the second and fourth Thursday of each month beginning at 7:00p.m. with compensation at $398.77 per month,$100 travel stipend, and dental/vision coverage with option of health insurance. (Acosta, Lucy, Baker terms end 2018, Lujan, Murray terms end 2020) For more information on the SSFUSD Board CLICK HERE
If you would like to learn more about registering to vote, how to become a candidate, or other election information the following links are great resources to bookmark:
The San Mateo Elections and Registrar of Voters office at www.shapethefuture.org provides on-line information about voter registration, election schedules, vote by mail, the California Elections Code, voter turnout, election results, election officer opportunities and political parties.
The California Secretary of State has a portal permitting online voter registration at http://www.sos.ca.gov/elections/voter-registration/
Other election related sites are listed below:
For further information, please see the City website CLICK HERE or contact the City Clerk at (650) 877-8518