South San Francisco, CA   November 6, 2017  by Mayor Pradeep Gupta
A groundbreaking ceremony for a new South San Francisco Caltrain Station took place this morning.
I was honored with the presence of State Senator Jerry Hill, State Assembly Speaker Pro-Tem Kevin Mullin, Vice President of San Mateo County Board of Supervisors Dave Pine, Redwood City Councilmember Jeff Gee and San Mateo County Transportation Authority Member Karyl Matsumoto. Others attending the ceremony were SSF Vice Mayor Liza Normandy, Councilmember Rich Garbarino, Councilmember Mark Addiego, SMCTA Executive Director Jim Hartnett, San Bruno Councilmember Ken Ibarra and many others who helped in many ways.
The new station scheduled for completion in late 2019, will provide bike/ pedestrian access to downtown SSF through a new walkway under the roadways, will be ADA compliant, will be safer and will be compatible with electrification of Caltrain in the Bay Area.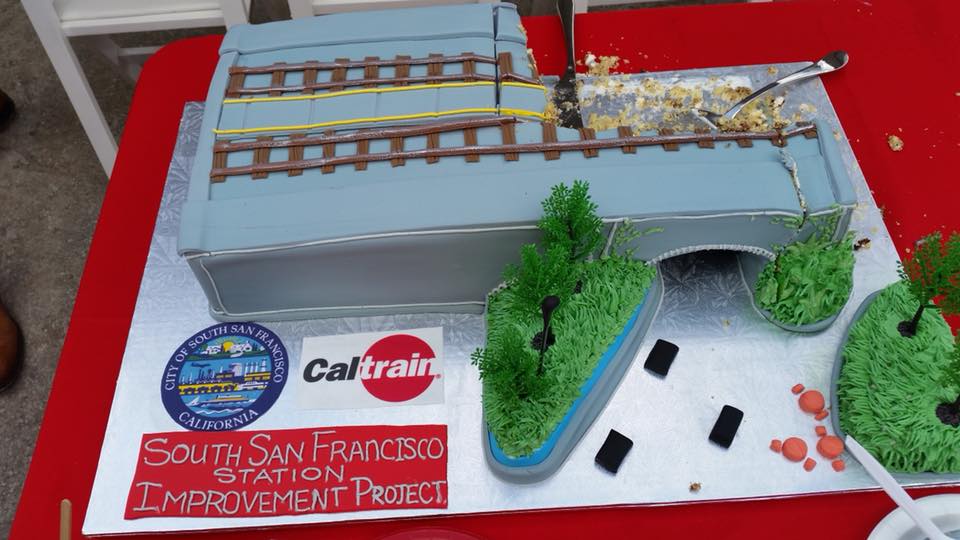 ###
About the South San Francisco Station Improvement Project
Caltrain, in cooperation with the City of South San Francisco, is preparing to replace the existing South San Francisco Station with a new center board platform that connects to a new pedestrian underpass. The station improvements consist of new track and signal work, construction of a 700 foot center board platform with amenities, shuttle pick-up/drop-off area along Poletti Drive, and a pedestrian underpass that crosses underneath the railroad tracks. The project improves safety by allowing multiple trains to occupy the station concurrently and improves connectivity between Grand Avenue and Poletti Drive. The improvements will also make the station fully compliant with the Americans with Disabilities Act (ADA). For more information on the project, please visit CLICK HERE
For more on the Caltrain project CLICK HERE.
To read Austin Walsh/ SM Daily Journal article on this groundbreaking event CLICK HERE