South San Francisco, CA   April 18, 2018  Submitted by Ryan Sebers, SSFUSD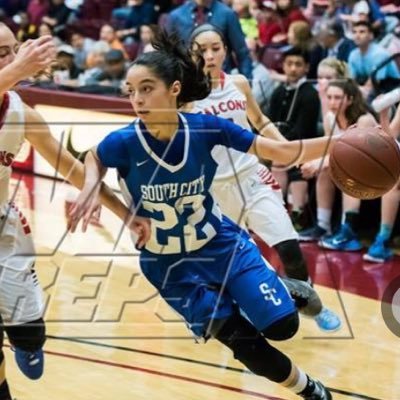 Brittney Cedeno, a star senior point guard at South San Francisco High School, has been named Girls' Basketball Player of the Year by the San Mateo Daily Journal for the second time in three years. She has also been named PAL North league MVP for the third consecutive year, and is also named San Francisco Examiner Player of the Year!
Brittney and her team won the PAL Championship for the first time in 18 years and the CCS Division III Championship, the first in the history of the girls program, and in 2015-16, also led the Warriors to a co-championship of the Peninsula Athletic League North. The team went on to play for the Central Coast Section Division III championship, and the Warriors also secured a berth in the Northern California Regional Division III state tournament that year. South City had never won a CCS championship and only one PAL championship prior to Brittney's arrival. She was injured (foot ligament tear) before this year's the CCS championship game, so her teammates share in the credit. We applaud them all for their efforts.
This year's stats: 16 points per game, 6 steals per game, 5 assists per game, and 6 rebounds per game.
Brittney will soon be on her way to playing for Division 1 Cal Baptist University in Southern CA.  She has signed a National Letter of Intent and will be receiving a full ride Scholarship.
Please visit the following link for the full story here:
https://www.smdailyjournal.com/sports/girls-basketball-co-player-of-the-year-ssf-s-brittney/article_c2c2e5ca-370d-11e8-b912-07fc60369626.html