South San Francisco, CA   April 5, 2018
Residents will have the opportunity to learn more about this proposed development during one of two workshops on April 18th at the MSB (33 Arroyo Drive); 10:00AM and 6:00PM.
The City expects to have this item back on the City Council agenda for their voting approval on the April 25th meeting at the MSB.
South San Francisco residents came out in force speaking before the City Council on Wednesday March 28th as word got out City officials were set to choose a developer for the property across from the Court House on Mission Road on the PUC open space properties. City officials had narrowed the search down from 12 to two finalists, who following instruction from City officials, presented developments with heights up to 15-stories in this established residential neighborhood that boasts single story family homes along with a few two and three story apartment complexes.
This proposed property is adjacent to the planned Community Civic Campus at Chestnut/El Camino and a stone's throw from the South City Car Wash that is to be replaced with a six story mixed use development. This build up in the center of South San Francisco will forever change the unique character of what was once the suburbs that is now becoming an extension of San Francisco.
Residents recognize the need for housing throughout the region and also understand the fact South San Francisco creates the majority of jobs in San Mateo County which requires our City to produce more housing. "They need to build the homes closer to their work places" Kathy M said "They can bike or walk to work from there."
The biotech industry was quick to shut down the 1500 +/- units of housing that was proposed by the Greenland/ Oyster Point Marina Development stating that was not the place to build residential units citing traffic congestion among their concerns even though the suggestion came from City officials.
While South San Francisco city staff has yet to take a position on the housing development, it was city officials who initially asked the developers to consider changing the Oyster Point approvals to include residential. City Manager Mike Futrell said a 2015 study identified two sites west of Highway 101 where housing could be desirable: Oyster Point and an industrial property next to the Caltrain station.

"The study said housing might be feasible," Futrell said. "We are currently weighing the risks, looking at the macro and the micro. Which is the bigger risk to the biotech sector in the long term? Is it the housing shortage and the adverse impact of long commutes, or is it some perceived disadvantage of having residential too close to biotech?"

Source: SF Chronicle
The San Francisco Bizjournal Mar 28, 2018 reported  "Greenland tried to secure support for the plan, especially among biotech companies, but nearby biotech giant Genentech Inc. and the California Life Sciences Association trade group, among others, had opposed the project. Part of the opposition to the residential aspect of the project has been driven by the biotech industry's desire to keep swaths of land open for expansion. Opponents also have argued that residential development on the bayside end of Oyster Point Boulevard — one of the main arteries for the largest biotech cluster in the world — would add to already-critical traffic problems and hurt companies' ability to attract and retain workers."
It has been reported Genentech plans to add another 11,000 workers to the area as they continue to expand which only serves to compound the problem of the region's housing shortage putting the onus on South San Francisco since we are the 'major hub' of the biotech industry. In addition other life science campuses are expanding and new businesses continue to join the area.
The irony is not lost on South City residents. "You've got to love the NIMBY attitude when it is the biotech that is creating this need for additional housing!" Richard Yates said "The city has allowed them to take over completely – who is here to represent our values, our needs, you know the residents and voters?!"
"So let me get this straight; the City encouraged housing near the Biotech for their workers but they said no? And yet 66K residents can say no to high rises in the middle of our city and we are told no? Who is running this place?" Jake Simms questioned. "Damn more people need to show up at the next meeting!"
One online tech worker expressed what residents are feeling "The company recognizes the regional need for housing but believes the proposed site was inappropriate for such a use.This seems exactly like saying "we need that, but not in my backyard."
Another biotech worker commented in favor of a housing development at Oyster Point yet noted "It's by the airport and it is LOUD. Even in our decently soundproofed office the plane noise is distracting sometimes. Housing in this area would need to be very well-soundproofed. It's also constantly windy but I guess most of SF puts up with that."
While they reasoned it might not be a good place for families needing schools close by transportation was also a concern  "Oyster Pt Blvd would need to be expanded significantly. Right now is it choked from 4:30 to 5:50 on weekdays. I know that housing nearby could alleviate this but residents will likely be going to SF on a regular basis, esp if they don't have kids Couples living there would need some way of getting to SF if one person isn't in biotech. I like the Caltrain idea! There are some great things about this area: The SF Bay Trail is very pretty. It is close to the airport, which is a bonus for some people. We do have Caltrain."
From some of the online comments made by the east side tech workers we can see they relate to San Francisco as part of their region – but not South San Francisco. City officials have suggested making some of the units in upcoming developments 'for sale' which they hope will help newcomers 'buy into' our community.
Residents will have the opportunity to learn more about this proposed development during one of two workshops on April 18th at the MSB (33 Arroyo Drive); 10:00AM and 6:00PM.
The City expects to have this item back on the City Council agenda for their voting approval on the April 25th meeting at the MSB.
Laura Flynn Peradotto commented on this development "Crazy! This isn't San Francisco! It's South San Francisco. Twelve stories high no way. What a mess that intersection is now it's only going to get worse." Samir Bisteni  agreed "So let me get this straight.. You want to add a sore thumb into this beautiful city. Just remember once 1 high rise building goes up. There will be more to follow. I vote we shut this down before we begin to look like the city. Protest anyone?"
Yes, outraged residents are protesting saying not so fast! City officials have told developers what they want yet this is not what the constituents want; the residents, the voters. Many neighbors are forming groups throughout the City with the intent of ensuring the City Council is fully aware that this development is not in line with any of the surrounding neighborhood and will not be accepted as it stands. "Even at eight stories, no way. Put it out at Oyster Point where it belongs, next to the workers!" Sheila Mayes wrote.
Another concern long time residents have shared is what happens when the bubble bursts? When these businesses start moving out of the area so they can retain workers in areas that offer sustainable living communities? When the expected earthquake of all earthquakes hits our region, how will the east side, built mostly on landfill, recover? What happens to the residents that are left here to clean up this mess long after the current officials have moved on, along with the current industry? "Does anyone remember the Geneva Towers?" Jim A questioned.
Residents will have the opportunity to learn more about this proposed development during one of two workshops on April 18th at the MSB (33 Arroyo Drive); 10:00AM and 6:00PM.
The City expects to have this item back on the City Council agenda for their voting approval on the April 25th meeting at the MSB.
Feeling jaded about City officials listening to resident concerns Mary Ornellas comments "Why waste your time going to a council meeting when it has already been decided by city officials? We have been down this road as we live next door to the hideous condos built by City ventures on mission road and Edgewood Way Sunshine Gardens area. We attended numerous meetings and residents who have resided in South City for numerous years were shut down and not honestly heard by council" The Ornellas family suffered damage to their home of 41 years due failed construction work by the City Venture Development on Thanksgiving 2016. CLICK HERE to read more

Infrastructure is another key issue as Cheryl Peruchetti said "There is no way they can have the infrastructure for parking and traffic at El Camino and Chestnut and Mission and El Camino. To get a residential building permit you must have adequate parking I guess that doesn' t count for apartment complex buildings? The City cannot force people not to have cars."Rose Rudometkin  also sees parking as a big issue "Some streets are already on overload from apartment dwellers overflowing into residential parking. Pretty bad when you can't even park in front of your own house."
"I thought our focus was on quality of life?" Meghan questioned as Danna Harris said "Good bye my BEAUTIFUL SSF. You're replacing this monstrosity with problems and noisy no more clean and PEACEFUL PLACE."
City officials expect to announce the chosen developer at the April 25th council meeting and plan to sign documents immediately after to seal the deal. Residents expect to stop this process and bring the City officials back to the planning discussions which involve them. "We do not need, nor want, a high-rise, high density development in this area, or any residential heavily used part of our City" James Turin exclaimed. "Our City officials are selling us out!"
More information on this proposed project can be found CLICK HERE on the City website.
Everything South City will update contact information for neighbors who oppose this development when we learn more. In the meanwhile residents are free to leave comments on our website.
Here is the City flyer regarding these upcoming workshops: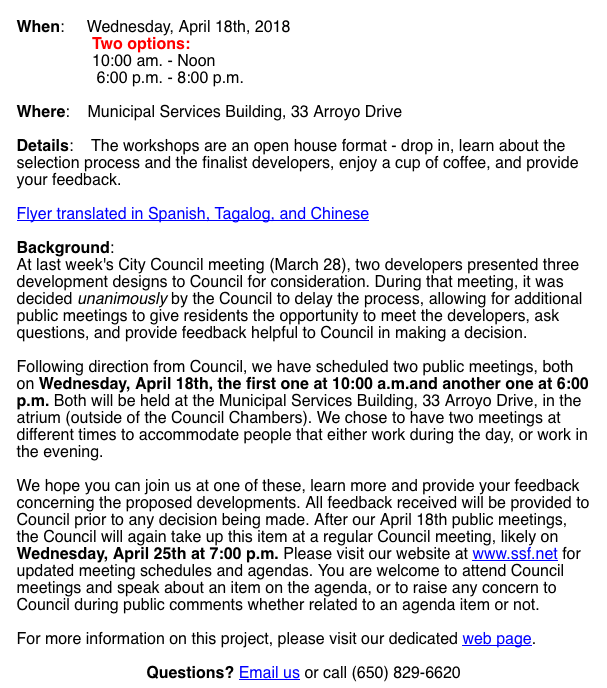 **Updated 10:30am Edit council date to 25th, thank you to Leslie Arroyo for the catch. **