South San Francisco, CA   April 29, 2018
"We fought until the very end, literally. Unfortunately, life took an unexpected turn and my father passed away Tuesday night with us by his side." Gaby Garcia shared on the gofundme page she created last year as a way to pay for expenses that were stacking up due to her father's illness. "We are now shifting the campaign focus from medical expenses to funeral services. All your love and contributions are appreciated more than you know."
Gaby and her mother, Jo Huerta, know how hard they fought along side of Walter and have continued to express appreciation for the support they have received by our community to which they have been dedicated. Walter spent 17 years of his life as a custodian in our School District where his smile and encouraging words lifted many students and teachers as well. He was well known in his community – from being a South San Francisco resident for 30+ years, to his native Mission District where he grew up, to throughout the school district, and all extended family and friends from all over.
Always thinking about others, the trio continued outreach to others educating them on signs and symptoms of cancer as Gaby wrote;
'We cannot stress enough how important it is to take care of your body, mind, and soul. Making better lifestyle choices, staying on top of your health, and working to obtain a longer, greater quality of life is the best thing you can do for yourself and your family. Most diseases are caused by what we eat, drink, consume, put into/on our body, how we live, environmental factors, etc., but can totally be preventable. Prevention and early detection is key. Get your monthly, yearly check ups, and always check in with your doctor if you feel something is off – even the smallest of things. Timing is key. This can all help save lives, and we refuse to see anyone else go through the same struggle.

Heartburn can cause cancer! This is a main cause of Esophageal Cancer. Know the signs and symptoms, of all cancers and diseases.'
While Walter's condition had seemed to improve, an unexpected downturn proved fatal sending Gaby and Jo into another direction, one no wife or child eagerly goes. Yet Walter's spirit lives on in them both and they are asking everyone to join in Walter's Party, a celebration of his life. "He was such a big part of this community and we would love for everyone to join us." Gaby said. "All your love and contributions are appreciated more than you know. Thank you so much from my father and I. Whether you are religious or not, we hope whatever your beliefs are, continue to bless you. One love."
To help with expenses please CLICK HERE – financial help is greatly appreciated, your words of comfort can be healing, and your prayers uplifting.
Walter's Party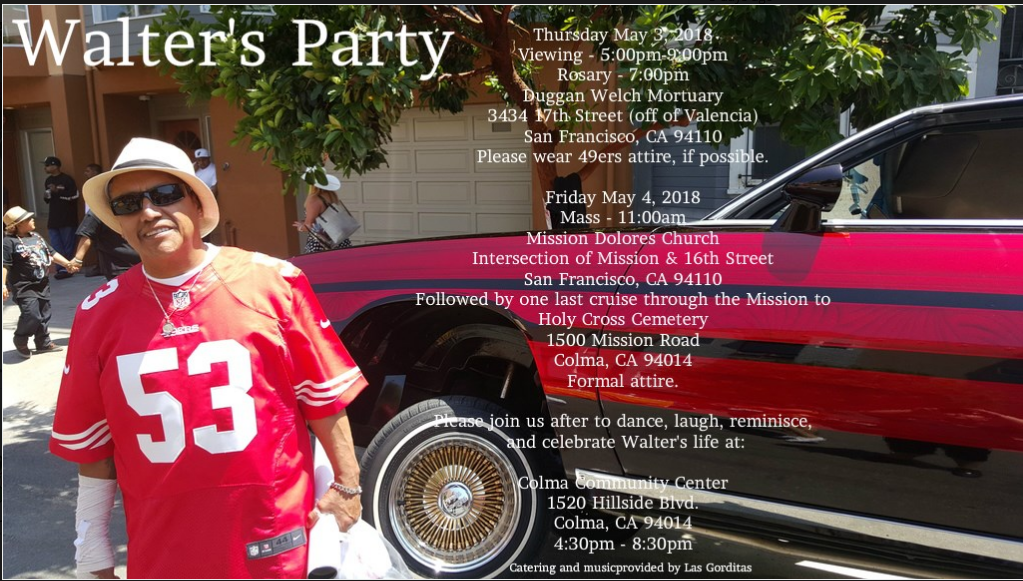 Walter's Party
Thursday May 3, 2018
Viewing – 5:00pm-9:00pm
Rosary – 7:00pm
Duggan Welch Mortuary
3434 17th Street (off of Valencia)
San Francisco, CA 94110
Please wear 49ers attire, if possible.
Friday May 4, 2018
Mass – 11:00am
Mission Dolores Church
Intersection of Dolores & 16th Street
San Francisco, CA 94110
Followed by one last cruise through the Mission to
Holy Cross Cemetery
1500 Mission Road
Colma, CA 94014
Formal attire.
Please join us after to dance, laugh, reminisce, and celebrate Walter's life at:
Colma Community Center
1520 Hillside Blvd.
Colma, CA 94014
4:30pm – 8:30pm
Catering and music provided by Las Gorditas
See you there!