South San Francisco, CA  May 15, 2018  Submitted by Leslie Arroyo, City of South San Francisco
NOTICE OF CONSTRUCTION – San Bruno Canal Bridge Closure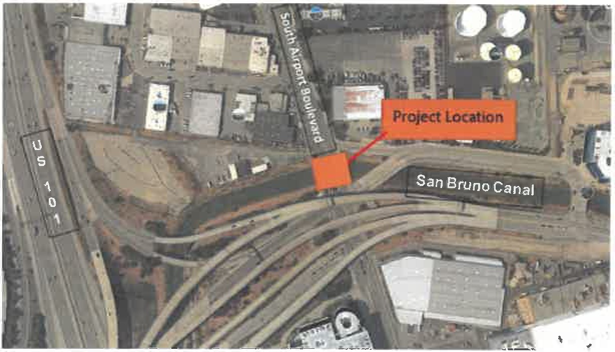 South Airport Blvd & North Access Rd San Bruno Canal Bridge Replacement Project
(City Project No. ST1301)
04-SM-0-SSF /  BRLS-5177(030) / 0413000001L-N
DIR#226511
Dear Property Owner I Proprietor I Tenant/ Resident:
Please be advised that the San Bruno Canal bridge at South Airport Boulevard will be closed effective May 21, 2018 due to rapidly deteriorating condition of the piles supporting the bridge. Construction to replace the bridge is scheduled to begin immediately and the new bridge opening to traffic is expected by the end of 2018.
Public safety is the City's number one priority. Traffic detours will be implemented to facilitate safe travel around the construction site. The city recognizes the inconvenience to the public and will minimize disruption as much as possible. Thank you in advance for your cooperation.  Additional project information including a project description and project location map is given on page two.
Please log into City web-site at www.ssf.net for updates.
PROJECT DESCRIPTION & LOCATION MAP:
The South Airport Boulevard Bridge over the San Bruno Canal at North Access Road and the 380 Freeway on ramp needs to be replaced due to its deteriorated condition. The initial bridge was built in 1949 on wooden piles. In 1975, the bridge was widened, and the new sections were supported on concrete piles. The City with the assistance of Caltrans has been successful in obtaining funding from the Federal Highway Administration (FHWA) for the design and construction.
CLOSURES & DETOURS:
The City conducted an inspection recently and determined that the pile column foundation (both wooden and concrete) exhibits advanced excessive deterioration. An ensuing bridge structural assessment concluded that the bridge is susceptible to failure under currently permitted vehicular loading. To protect the travelling public and construction workers who would be performing work beneath the bridge, the City will be closing the bridge immediately effective May 21, 2018, prior to performing the bridge replacement project instead of maintaining traffic over the bridge during construction.
The bridge is scheduled to be closed effective May 21, 2018 and remain closed until the bridge replacement construction is completed at the end of 2018. The public is requested to follow the detour signs to navigate through alternative routes once the bridge is closed.
CONSTRUCTION SCHEDULE:
Construction Start: May 2018
Anticipated Completion: December 2018
PROJECT CONTACT INFORMATION:
Public Information Contact Phone: (BOO) 462 9550
Email: info @vsceinc.c om
CONTRACTOR INFORMATION
Proven Management, Inc.
Andres Martin (GC Project Manager) 225 3rd St. Oakland, CA 94607
Phone: (510) 913-4564
Email: AMartin@ProVenManagement.com
CITY OF SOUTH SAN FRANCISCO CONTACT:
Robert Hahn (City Project Manager) Phone: (650) 829-6660
Email: Robert.Hahn@SSF.net
Ron Oen, P.E. (Construction Manager I Resident Engineer) Phone : (408) 296-5515
Email: ROen@BiggsCardosa.com