South San Francisco, CA   May 16, 2018  Submitted by SSFPD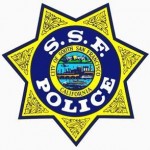 On May 16, 2018 On May 16, 2018 at approximately 7:10 a.m., the South San Francisco Police Department's Communication Center began receiving multiple calls reporting a male subject was ramming his vehicle into other parked vehicles.  The initial reports indicated the incident was taking place on the 500 block of El Camino Real, in a local business parking lot.
The male suspect then drove out of the parking lot, across El Camino Real and into the parking lot of South San Francisco High School.  The driver recklessly continued through the parking lot at a high rate of speed striking a cement pillar and eventually became disabled after colliding into another parked vehicle and adjacent fence on B Street.  The driver exited the vehicle and climbed a nearby electrical pole where he was located by responding emergency personnel.  After a short time, the subject fell to the ground and was taken into custody without further incident.
The subject, identified as 28-year old Georgia resident, Mohammed Tsado, was taken to a local trauma center for a medical evaluation.  Once medically cleared, he will be booked into San Mateo County Jail for Assault w/ a Deadly Weapon, Felony Vandalism and Delaying / Obstructing an Officer. There were no injuries reported during the incident and the investigation is on-going at this time.
The cause and motive for the incident is yet to be determined.  School at South San Francisco High School was not impacted by this incident.  Anyone with information related to this incident is encouraged to contact the South San Francisco Police Department at (650) 877-8900