South San Francisco, CA    June 15, 2018  Submitted by Leslie Arroyo, Communications Director SSF

Dear residents of South San Francisco:

We understand the frustrations many of you are experiencing regarding the San Bruno Canal bridge closure and the impact on traffic this is having. Please know we are working daily to make this a better commute for all.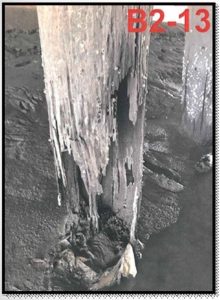 To provide a bit of background on the closure:

The South Airport Boulevard Bridge over the San Bruno Channel at Interstate 380 was originally constructed in 1949. The bridge is inspected every two-years through Caltrans bridge inspection program, and was scheduled for replacement this year due to age.

The City's original plan was to replace the bridge in two sections; enabling the bridge to remain open to traffic during construction. The project was scheduled to be completed over a two-year period.

The most recent structural inspection prior to beginning construction revealed that the support pilings deteriorated much faster than during previous inspections. (see attached picture) Some piles were fully severed while others were hollow. With public safety as our primary concern; a determination was made to close the bridge completely.

In the interest of public safety, the South Airport Boulevard bridge over the San Bruno Channel was closed on May 21, 2018. City staff is working with its contractor to modify construction operations to expedite replacement of the bridge and minimize the duration of this unplanned traffic disruption. Mitigating the disruption to traffic has been a difficult process requiring a collaborative effort between Public Works, Police, Caltrans, and the City's bridge contractor to implement a broad range of traffic handling measures. Traffic signal timing on city streets and Caltrans' metering lights to 101 have been adjusted to improve traffic flow, flaggers have been assisting at key intersections, electronic message boards and signs have been placed throughout city streets and Highways 101 and 380. Local businesses, residents, and the biotech business community have been notified through mailers, social media, SMC alerts and will continue to be updated as the bridge replacement project progresses. City staff monitors and adjusts traffic handling measures on a daily basis.

If you have any questions or input, please feel free to contact the City's Communications Director at Leslie.Arroyo@ssf.net. Thank you for your patience and understanding.