South San Francisco, CA   June 8, 2018 Submitted by Amanda Sky
"Talent wins games, but teamwork and intelligence win championships." – Michael Jordan
Community Sponsorship Opportunity
I am reaching out to you today in hopes that you may support our local team. We are a Peninsula team comprised of South San Francisco, CA kids. We currently have an opportunity to take this group of kids to Colorado to train at an International event. We will be bringing shirts as gift and wearing them there and year round. Our club information can be found at norcalrushdc.com. We are hoping to gather support of local business to really show what "we" are about.
You may return the attached form to me. Furthermore you may contact me directly for more information.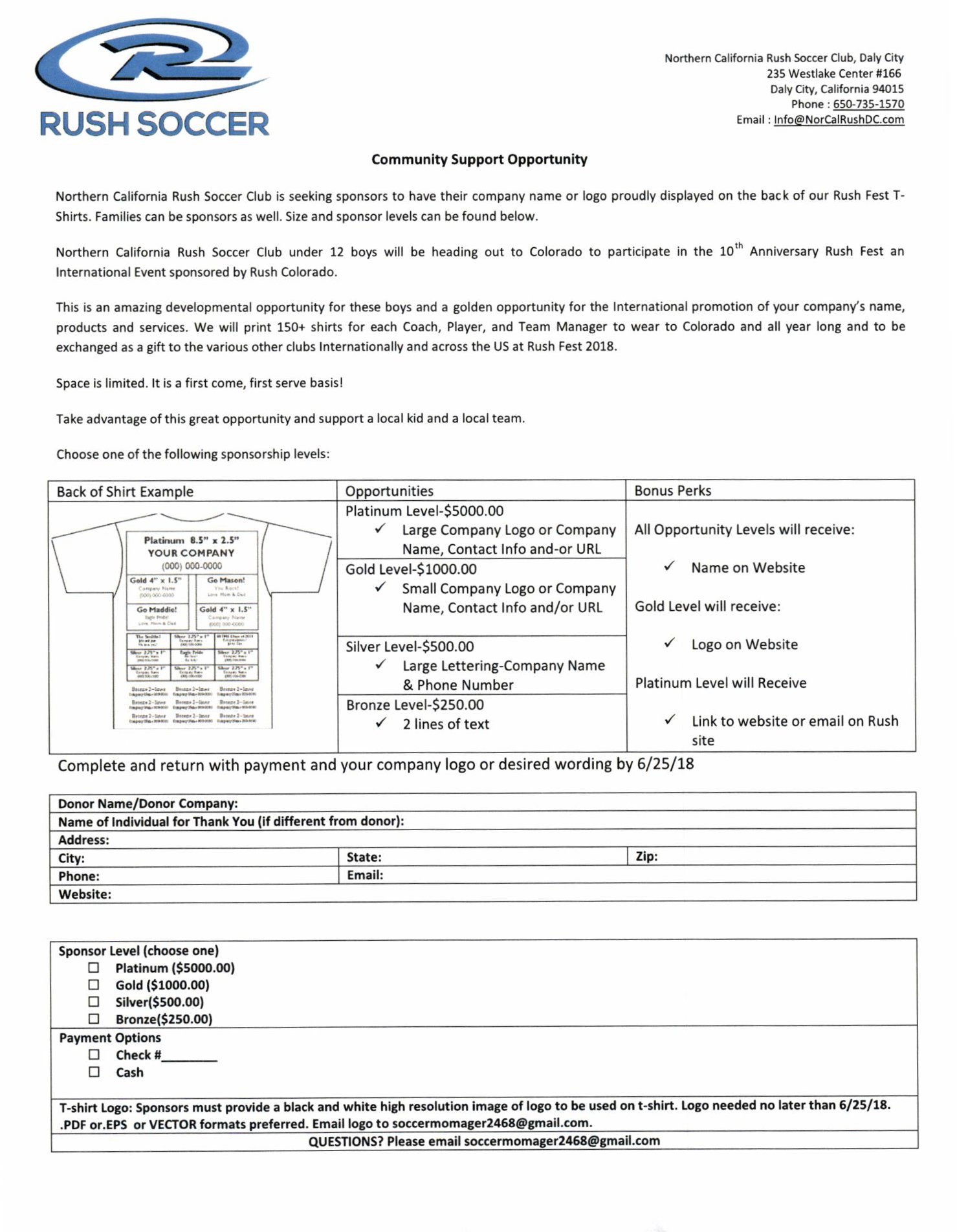 Please if you can help with a donation to our gofundme page we would greatly appreciate it! Thank you!
FC Strikers (also known as Daly City Strikers), a non-profit group, has been a part of the Daly City Soccer Community since 2010. Born out of the need to provide a competitive soccer programs for kid's who can't make the cut at any club tryouts – the kids that coaches don't want. We started as a single team focusing on player development and character formation. We didn't mind losing as we see conceding a goal as a chance to get better. It was a hard fight, but somehow we managed.
Our patience, passion, and determination to become a true student of sport has paid off. We started receiving medals, trophies, and attention from other clubs. In an effort to sustain our momentum, we must reinvent ourselves. Let go of our own personal pride and put our kid's soccer development front and center. It's no longer about club pride, but what we can do better. This is why a decision has been made to end what we call norm and begin a new era of soccer development. On March 2018, FC Strikers joined the Rush Soccer family as part of Norcal Rush Soccer Club.
'Where the Trails of Passion and Purpose Meet, Begins the Path to Victory'
Recently our 2006 team comprised of 12 underprivileged and minority children received the invitation to attend Rush Fest in Colorado Springs, CO. July 8-July 13. This event will cost our children including travel, hotel and meals approximately $1,250 per child. We have set up this gofundme account in an effort to help offset this cost.  We will be hosting a multitude of fundraisers to assist our children partake in this character building event. All of which will be posted here on this site, including selling World's Finest Chocolate which we began doing today. Please contact me for information regarding this. We believe that this event will benefit the community in instilling the following core values
Accountability : Be accountable for your actions and hold others accountable for their actions. Who am I ultimately accountable to, and who judges my work?
Advice : Seek out advice and aspire to be the best. In order to learn, we must be open to learning and consider the advice of others. Are you coachable?
Empathy : Empathy is at the core of solid relationships.
Enjoyment : Enjoy your work, this is a gift. The desires of diligent workers are satisfied. Humility : Apologize when you make a mistake. Forgive others and do not look back.
Leadership : Leaders strive to be trustworthy, honest and sincere. They possess traits such as integrity and honor. They are willing to serve others and sacrifice their own interests. Leaders are constructive and hardworking.
Passion : Passion always trusts, always hopes and always perseveres. Passion never fails.
Respect : Respect everyone. Respect the opponent, the rules, your colleagues, your superiors and subordinates. Be thoughtful and considerate.
Safety : Our environment is safe. This includes the office, our travels, the fields and our bodies. Safety is not only physical safety from harm, but safety from ridicule and attack. We are comforted and encouraged in the club. We portray self-control and kindness to
our staff, our colleagues and players.
Tenacity : To be successful, persevere…. persevere but do not be anxious. Fear no one. Be strong and courageous. Work when no one is looking, even when the circumstances are not right and everyone else quits. Diligence never loses because it never quits. Outwork your opponent, and most importantly, work smart. Don't wait for external inspiration. The people who go far do so because they motivate themselves and give life their best, regardless of how they feel.
Unity : Together all things are possible. When your teammates are down, bear each other's burdens; conversely, celebrate your teammate's successes.
We believe these attributes will then be shared to other's within the communities these children reside throughout the Bay Area.
Q) What is the Purpose of the Rush Fest?
A) The Rush Fest has multiple purposes and goals. This is an opportunity for Rush players from across the world to come together and be educated with the Rush Way, in a fun but competitive environment. Education is a huge part of the week,  but the education is not solely for players. There will also be clinics for the coaches, parent education sessions and team manager education. In addition, the competitive games will allow the Rush Select Coaching staff to identify potential players for the upcoming U13 Rush Select Pool.
As with all  gofundme accounts, anything helps, especially a share.
Please visit our website for more information http://www.norcalrushdc.com.