South San Francisco, CA    July 17, 2018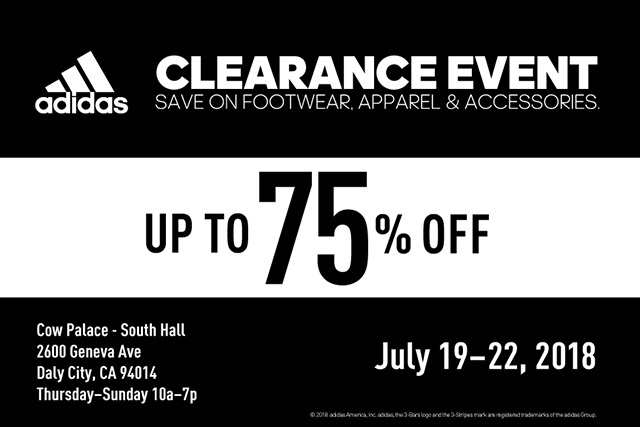 Four Huge Days of Savings 
Adidas Warehouse Clearance Event
July 19-22, 2018
Four days of huge savings on footwear, apparel, and accessories. The best prices of the year with over 20,000 sq. ft. of deals.
Cow Palace
2600 Geneva Avenue, Daly City
Thurs-Sun,10a-7p
Open to the Public. Free Entry
You're also invited to the pre-sale VIP Day – Wednesday, July 18th (5-8p)
to have first crack at the best stuff before anyone else.
Every clearance event is different, but you should expect up to 75% savings on over 20,000 square feet of footwear, apparel and accessories. 
What Can I Find at the Sale?
There are usually about
25,000 items for sale
– that's typically shoes, cleats, socks, backpacks, accessories, duffel bags, watches, jackets, seasonal gear, tracksuits and more. Expect to see all the
Spring and Summer 2018 gear
– the first time it's ever been at a warehouse sale.
What's the Best Day to Go to the Sale?
– If you want the best selection with really good deals, go Wednesday or Thursday. On the first days of the sale prices for most shoes are typically around $40 (with some premium brands $60), duffel bags & backpacks typically are $20 and lots of other gear for $5-$20. Prices typically drop a little later in the sale.
– If you want the absolute cheapest, go on Sunday.
– New product is brought out each day of the sale.
About 25,000 items for sale
– Up to 75% off – tips for getting the best deals
– Get there early for the best selection
– New product brought out each day
– Free parking – Getting there