South San Francisco, CA   July 20, 2018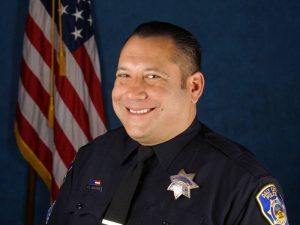 Passed away peacefully in his sleep, July 16, 2018. Preceded in death by his father Erwin, Alex is survived by his wife Nancy, son Adrian, mother Lidia and sister Veronika. Alex will be missed and cherished by other family members who span the globe.
Alex proudly served his country in the United States Marine Corps before beginning his law enforcement career with the San Bruno Police Department in 1999. In 2003, Alex went to work for the Daly City Police Department. With the Daly City Police Department, Alex served as a Patrol Officer, Field Training Officer, Detective, and SWAT team member. Alex promoted to sergeant in 2011 and supervised the Crime Suppression Unit, and most recently served in the Patrol Division.
Alex loved many things in life, and his family meant everything to him. He called Nancy his soulmate. Alex loved having and making friends. Alex could make anyone feel loved through his humor and antics. He enjoyed nothing more than having a group of people over for a BBQ, sit by his beloved pond, light his firepit, and tell stories while watching the sun set in what he called God's county. Alex claimed that no matter where he went in life, his heart would always be in San Bruno. Godspeed #77, we'll carry on for you!
Friends may visit, Sunday, July 22nd at 6:30pm followed by a vigil service at 7:30pm at St. Robert Catholic Church, 1380 Crystal Springs Rd., San Bruno, CA. A Funeral Mass will be celebrated, Monday, July 23rd at 10:30am at St. Robert's. Private family interment, Olivet Memorial Park, Colma, CA.
Donations to Sgt. Alex Rohleder Memorial Fund, payable to "DCPOA", Daly City POA, 333 – 90th St., Daly City, CA 94015 or via credit card at https://dalycitypoa.org
###
Initial notice HERE