South San Francisco, CA   July 31, 2018  Submitted by SSFPD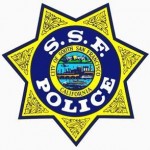 On 07/30/2018 at approximately 1404 hours, a robbery occurred at a local market on the 200 Block of Hillside Boulevard. A lone, unidentified suspect demanded money from a cashier stating he had a gun. The cashier never observed a firearm, but was in sustained fear for his life and gave the suspect the money in the cash register. The suspect was observed fleeing the market west on Hillside Boulevard towards North Spruce Avenue. The suspect was wearing a red hooded sweatshirt, gray sweat pants and white sneakers. The suspect appeared to be a light skinned Hispanic male with short cropped hair, a mustache, approximately 5'11" tall, heavy build, and appeared to be 20 to 29 years old.
Anyone with information regarding this investigation, please contact the South San Francisco Police Department at (650)877-8900.