South San Francisco, CA  August 16, 2018 Submitted by SSFFD Captain Travis Nuckolls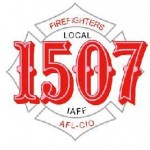 Every October, the SSF Professional Firefighters Union Local 1507 honor National Breast Cancer Awareness month, by designing, producing and selling uniquely themed breast cancer awareness shirts.  100% of the proceeds are donated directly to the Carol Franc Buck Breast Cancer Center at UCSF.   Our firefighters wear the shirts while on duty for the entire month and it generates a good deal of interest from both private citizens and local businesses.  This year, we'd like to open our shirt sales to the public and offer the same shirts that our personnel wear.  The shirts are available in both men's and women's sizes.
PLEASE USE PRINT THE FORMS BELOW TO GATHER ORDERS FROM YOUR BUSINESS AND CLUBS
Please follow the instructions on each form.
If you have any questions please direct them to Travis or Anthony at local1507charity@yahoo.com