South San Francisco, CA  August 13, 2018 by  Jason Remolona, Owner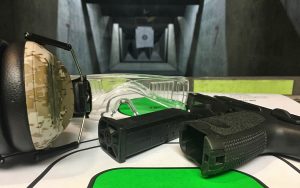 "It's the end of an era. I would like to take this time to thank all of the customers, friends and family that have shown support to Jackson Arms over the years. Without you we wouldn't have made it this far and I'm glad that we ended up meeting customers that became friends and quite a few that became staff/family. You are all very much appreciated. Jackson Arms will be closing down on Sunday, September 30, 2018"
Jackson Arm's Shooting Range
152 Utah Avenue Suite 140, South San Francisco, CA 94080
Phone: 650.588.4209 Fax: 650.588.1845
Jackson Arms Shooting Range is open 7 days a week.
Closed Thanksgiving and Christmas Day.
Monday – Friday: 11:00AM – 9:00PM (accepting LAST shooter)
Saturday: 10:00AM – 9:00PM (accepting LAST shooter)
Sunday: 10:00AM – 7:00PM (accepting LAST shooter)
* Hours are subject to change without notice.
We allow handguns and shotguns, NO RIFLE ROUNDS. For shotguns, lead buckshot and slug rounds only.
We allow Black Powder firearms Monday – Friday, 11:00 am – 12:00 pm only.
NO .50 BMG allowed.
It's the end of an era.
I would like to take this time to thank all of the customers, friends and family that have shown support to Jackson Arms over the years. Without you we wouldn't have made it this far and I'm glad that we ended up meeting customers that became friends and quite a few that became staff/family. You are all very much appreciated.
Jackson Arms will be closing down on Sunday, September 30, 2018. The range will operate as normal until then. The last day for firearm purchases or private party transfers will be Friday, August 31, 2018. Any firearms not picked up after the 30 day limit will be considered abandoned and cannot be returned.
As always, stay safe and "Getcha POP On!!!…"
Current Ammo Pricing:
Per box of 50 rounds:
.22 lr $6.95
.22 mag $9.95
.25 acp $25.95
.32 acp $25.95
.380 acp $22.95
.38 spl $27.95
.357 mag $30.95
9×18 $29.95
9 mm $19.95
10 mm $44.95
.40 S&W $22.95
.44 mag $48.95
.45 acp $28.95
per box of 5 rounds:
12 ga buckshot $6.95
12 ga slug $6.95