South San Francisco, CA   August 2, 2018  Press Release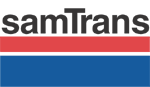 This Sunday, SamTrans will combine its 398 and KX routes in order to increase service into San Francisco. The new route, now simply known as the 398, will travel from the Redwood City Transit Center to downtown San Francisco along El Camino Real and Highway 101, with small detours serving San Francisco International Airport (SFO) and the San Bruno BART Station.
The route will run approximately hourly, from 5:07 a.m. to just after midnight on weekdays, and 5:50 a.m. to 11:10 p.m. on weekends. Previously, the KX only ran four buses per weekday, northbound in the mornings and southbound in the afternoons, with no weekend service. The new route has 18 northbound and 19 southbound trips on weekdays, allowing far more flexibility and frequency for riders.
With an estimated 40 minutes of travel time between the route's terminus at Mission Street and 1st Street, which is located across the street from the new Salesforce Transit Center and near the Montgomery BART Station, and SFO, the route will offer a cost-effective direct route for visitors to the Bay Area, as well as airport employees. This route will travel further along Highway 101 than any other route in the SamTrans system, providing a public transit alternative for commuters that travel long distances along the Peninsula.
The KX has been a popular route for SamTrans, while the 398 has been more sparsely used. The new route is designed to serve the existing needs of riders on both previous routes while greatly expanding frequency of service in order to entice new riders.
"During the 2008 Recession, SamTrans was forced to reduce its service to San Francisco. Since then, we've heard from many folks in the community that they'd love to have that service back," said Charles Stone, chairperson of the SamTrans Board of Directors. "The new 398 expands on an already popular route, allowing more people to take advantage of a vital link between San Francisco and San Mateo County."
In addition, SamTrans is announcing 14 other minor service changes throughout the system. Riders are advised to visit SamTrans' Timetable Updates for all details.