South San Francisco, CA   August 16, 2018 Submitted by SSFPD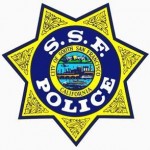 On 8/14/18 at approximately 8:05 P.M., two Hispanic males entered a market on the 900 block of Linden Avenue and demanded cash  from  the store clerk.  One of the suspects  brandished  a firearm  at the clerk. The clerk opened the cash register and  stepped  aside  while the other suspect  removed  the  cash from the register. Both suspects fled the area westbound on the 300  block  of  Armor  Avenue towards Olive Avenue.
The firearm and the cash was later recovered in the backyard of a nearby residence. Officers later contacted Jorge Barajas (21 yo, unemployed from Pittsburg), Jorge Lara (21yo, unemployed from Bakersfield), and Jeffry Lopez after they were observed in the immediate area where the firearm and cash were originally discarded. Barajas and Lara were wearing clothing  that matched the description provided by the clerk and an independent witness. Barajas and Lara were positively identified by one of the witnesses. Barajas, Lara, and Lopez were placed under arrest for conspiracy and robbery.
If you have any information regarding the above  incident,  please  call  the  South  San  Francisco  Police Department at (650) 877-8900, the South San Francisco Police TIP Line at (650) 952-2244 or forward an anonymous tip to tips@ssf.net.