South San Francisco, CA   August 30, 2018  Submitted by SSFPD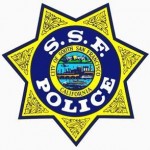 On August 29th , 2018 at approximately 8:55 P.M., two businesses on the 1 I 00 block of Mission Road were robbed. A male suspect entered a business, brandished a firearm and demanded money from the clerk. The suspect left the business and entered another nearby business. The suspect brandished  a  firearm  and demanded money from the clerk. The suspect fled on foot on the 200 block of  Holly Avenue.  The suspect  was described as a white  male, approximately  30 years old, 6;0″ and 215  pounds.  The suspect  was wearing a black hooded sweatshirt with the hood over his head, a gray mask covering the lower portion of his face, a light blue undershirt, black pants and black shoes.
If you witnessed this incident or have any information regarding the identity  of  the suspect,  please contact the South San Francisco Police Department at 650-877-8900. You may also call the anonymous tip line at (650) 952-2244 or send an email to tip@ssf.net.