South San Francisco, CA   September 22, 2018  Submitted by Elizabeth Nisperos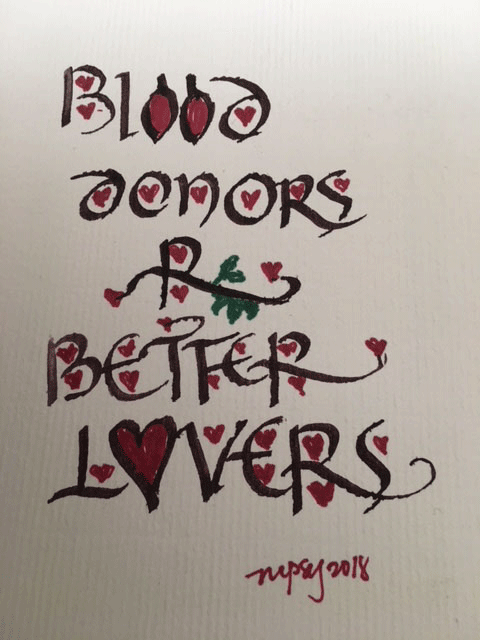 Here's your chance to make a difference – be a superhero and a superstar (that's what the Red Cross calls their blood donors via email). One person's donation can save up to three lives.
An upcoming opportunity to give blood near you:
Municipal Services Building
33 Arroyo Drive, South San Francisco, 94080
9/25/2018
9:15 AM – 2:45 PM
Sponsor Code: SSF
Visit RedCrossBlood.org or call 1-800-RED CROSS (1-800-733-2767)
From the Red Cross organization email to regular blood donors.
"As we hit the peak of hurricane season, powerful storms will continue to impact hundreds of thousands of people across the country. The American Red Cross is preparing to send blood around the country to wherever it is needed most. We encourage eligible donors in parts of the country unaffected by storms to give blood to help ensure a sufficient supply.
Hurricane Florence forced the cancellation of blood drives causing lifesaving donations to go uncollected. We are asking all eligible donors in parts of the country unaffected by storms to step up and give blood this week. Your blood donation will prevent delays in patient care. We depend on generous volunteer blood donors to provide lifesaving blood for those in need – each and every day.
But no matter the season, many patients in hospitals around the country still need the gift of blood, platelets or plasma. In fact, the Red Cross must collect 13,000 blood donations each day to meet ongoing patient need"
September is also Childhood Cancer Awareness Month. Your blood donation also helps sick kids.
The author has been an ongoing blood donor for the past 30 years for Irwin Pacific Center/Red Cross. I remember years ago I received a heart shape tag that said, "Blood donors are better lovers". Blood donors are healthy folks who passed several filters and tests for healthy living, hence they make healthy partners and friends. When you donate, you also get a free mini physical check-up and tons of joy knowing you helped save a life when you give your precious blood.